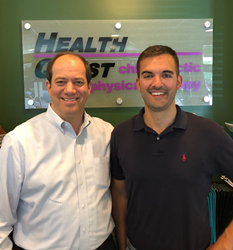 "We are dedicated to the growth of a dynamic organization that provides the highest quality chiropractic and physical therapy services..." Dr. Paul Ettlinger, CEO & Founder of Health Quest
BALTIMORE (PRWEB) January 28, 2020
Health Quest Chiropractic & Physical Therapy today announced an additional location in Baltimore City. This expansion involves Dr. Riley Barrett, the Health Quest partner in the Federal Hill Community of Baltimore City.
Dr. Riley Barrett will be the managing doctor at the Charles Village / Remington location. "I am very excited to extend the Health Quest brand into this part of town" says Dr. Barrett. "And I am honored to be part of such a great organization that raises the bar on not only how to treat patients but how to mentor and inspire every member of the Health Quest team."
The newest Health Quest Location is the fifth overall. The newest clinic is located at 320 W. 29th Street, Suite 100 in Baltimore's Charles Village/Remington neighborhood.
Launched in 1998, Health Quest strives to set the standard for chiropractic and physical therapy care throughout the greater Baltimore region. Founder, CEO, and Clinical Director Dr. Paul Ettlinger, DC, says, "We are dedicated to the growth of a dynamic organization that provides the highest quality chiropractic and physical therapy services in an environment that delivers exemplary care and customer service to both our patients and our referral sources. Our motto is: 'Be Treated Right. Be Treated Well.'"
Health Quest provides conservative, affordable, evidenced-based solutions for people wanting to relieve pain and restore quality of life as quickly as possible – without the use of drugs or surgery. They treat commonly occurring injuries and pain syndromes such as neck and back pain, hip and shoulder pain, headaches, bulging/herniated discs, and injuries resulting from work or auto-related accidents. Health Quest is also uniquely qualified to offer Functional Neurology for the effective treatment of peripheral neuropathy, vestibular vertigo and post-concussion syndrome.
For more information about Health Quest's expansion or service offerings, please call 410.356.9939, or visit https://www.HQChiro.com.
About Health Quest Chiropractic & Physical Therapy
Health Quest Chiropractic & Physical Therapy provides a variety of chiropractic, physical therapy, and rehabilitative services. Services at Health Quest Chiropractic & Physical Therapy are provided by our team of five Doctors and their team of licensed, professional assistants - all in an environment that is underscored by superior customer service every step of the way. We go beyond typical treatment of neck pain, back pain, migraines, herniated discs and bulging discs to treat muscles and joints in the entire body - such as shoulder, elbow, hip and knee pain/injuries. We care for those involved in auto accidents or work-related injuries. And we provide the premier treatment for peripheral neuropathy in the entire state of Maryland, where patients average 74% reduction in neuropathy symptoms such as numb, tingling and/or pain in their hands or feet. For more information visit the website at http://hqchiro.com/
For more information visit https://www.hqchiro.com/
About Growth Solutions Team
The Growth Solutions Team is a leading provider of Business Consulting Services including, Strategic HR, CFO Advisory, Sales & Customer Service Training, and Small Business Advisory services. Our team assists companies with growth in sales, profitability, and improved cash flows. For more information visit the website at https://growthsolutionsteam.com