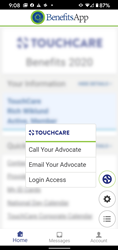 BALTIMORE, Md. (PRWEB) April 21, 2020
Today, HealthBenefitApp, a national leader in the benefits-tech market with its flagship product BenefitsApp, announced a strategic partnership with TouchCare, a unique health concierge service that helps consumers navigate today's complex health care challenges.
The partnership provides BenefitsApp's Broker clients and employers the option to supplement their benefits with dedicated TouchCare personal assistance, to drive participant awareness and adoption of benefit plan-driven offerings. TouchCare's concierge service extends BenefitsApp core features to address common scenarios such as personal bill review and negotiation, care coordination, and open enrollment support.
"Our partnership with TouchCare marks our first step in BenefitsApp's app store strategy of offering an
à la carte menu of compelling employee-focused features to clients and their eligible employees," said Rich Wiklund, CEO of BenefitsApp, "Our partnership with TouchCare will increase our ability to enable employees to maximize the value of their employer-sponsored benefit plans, and reduce stress by providing direct access to a personal health advocate who is a champion for their interests in stressful times."
"TouchCare is thrilled to be partnering with BenefitsApp to deliver a better participant experience," said Rob LaHayne, TouchCare Chief Executive Officer. "Access to an experienced health advocate gives plan members and their families an advantage when navigating their options for treatment. Through an empowered consumer experience, made easily available with BenefitsApp, TouchCare may reduce both participant and employer costs, and make benefit plans more successful for everyone."
"The one-click option to connect with a champion who is looking out for your best interest as you navigate the complexity of medical benefits is critical to gaining control of cost and creating a more empowered employee group," says Jonathan Anders, former CEO, WorkforceTactix, and HealthBenefitApp Partner. "There is a clear strategy and BenefitsApp is creating a robust platform that enables employers to connect employees with tangible personalized resources. This results in greater employee engagement, decreased frustration in using the benefits, and decreased employer administrative and servicing costs dealing with the wide array of benefits that are offered to employees today."
BenefitsApp, developed on the #1 cloud CRM platform Salesforce.com and available globally to employers and their eligible employees via the Apple App Store and Google Play stores, is a HIPPA-compliant platform for distributing benefits content based on employee eligibility. BenefitsApp's sophisticated, highly secure and redundant open architecture enables availability of third-party apps for employee perks, digital signatures, concierge and telemedicine options, and integration with any HRIS platform. BenefitsApp offers employees access to their benefits and HR apps – wherever they are, whenever they need them.
About HealthBenefitApp LLC
HealthBenefitApp LLC is the developer of BenefitsApp, a HIPPA-compliant mobile communications platform with sophisticated push and in-app messaging capabilities that facilitates communications among employers, employees and their families. BenefitsApp supports employers, brokers, consultants and payors in deployment of robust mobile benefits strategies. The app combines easy access to important benefits information with third-party apps to deliver a highly personalized experience for employees that increases engagement, decreases frustration, and provides a better experience while decreasing costs associated with benefits administration. BenefitsApp is available on Apple App Store and Google Play Store. Learn more at http://www.benefitsapp.com.
About TouchCare
TouchCare is a health care concierge service. Their team of Health Assistants helps members save money while making the best decision possible regarding health care plans. Furthermore, TouchCare assists members with the navigation of their health care benefits package, including medical, dental, vision, and all ancillary benefits. TouchCare conducts regularly scheduled webinars for clients throughout the year, primarily focusing on employee wellness in and out of the workplace. The company partners with the business's existing HR department to provide open enrollment support and guidance. TouchCare offers 30-minute consultations with members, where they can provide insight on which individual health care plan would benefit them the most. For more information, visit TouchCare.com.
Ask your broker about BenefitsApp or visit BenefisApp.com to learn more.