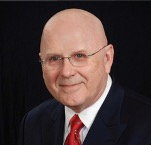 "The health insurance industry is in need of new solutions to leverage growing volumes of EHR data to improve efficiencies and patient outcomes. I'm very pleased to join DataOceans' advisory board to help them continue to deliver the next generation of communications to their clients."
ATLANTA (PRWEB) November 17, 2020
DataOceans LLC, (https://www.dataoceans.com) a leading customer communications management (CCM) platform, today announced that Joseph Smith has joined its Advisory Board.
Mr. Smith had held leadership positions in the healthcare insurance industry, including Blue Cross Blue Shield (BCBS) organizations in the Midwest, Northeast and Southwest. He recently retired from his role as Senior Vice President and CIO at Arkansas Blue Cross and Blue Shield.
Speaking of the new affiliation, DataOceans' founder and CEO Larry Buckley commented, "Joe brings to us decades of leadership in healthcare IT governance and strategy. His deep understanding of these areas will be a valuable contribution that will help us continue to deliver innovative customer communications for our clients in the healthcare industry."
Throughout his career Mr. Smith has served in numerous healthcare leadership roles, on several occasions representing BCBS in formal testimony to Committees of Congress. In 2011 he was selected to receive Information & Technology Magazine's "Elite 8" Award. He has also been awarded a patent for the business strategy and supporting computer system to support the healthcare industry's migration to ICD 10 coding nomenclature.
Mr. Smith has founded four major user groups for shared systems investments, and currently serves as an advisor to firms and committees in the technology and healthcare sectors. He is the founder of several healthcare-related companies: Shareware LLC, a shared capabilities company; Shared Health Plan Systems LLC, which enables multiple health plans to administer their health products on a single shared operations platform; and HITvision, which specializes in Healthcare IT arbitration.
According to Smith, "The health insurance industry is in need of new solutions to leverage growing volumes of EHR data to improve efficiencies and patient outcomes. I'm very pleased to join DataOceans' advisory board to help them continue to deliver the next generation of communications to their clients."
About DataOceans. DataOceans delivers a fully integrated and comprehensive CCM platform built for communications and revenue lifecycle management, where business rules can be applied to deliver agile and consistent communications, including billing statements, compliance notifications, and marketing promotions, across distribution channels that include print, online, mobile, interactive PDF and mobile alerts. DataOceans enables clients to transform how they engage with customers, innovate how they do business, and simplify their technology landscape. For more information, visit https://www.dataoceans.com or follow us on LinkedIn at https://www.linkedin.com/company/dataoceans/