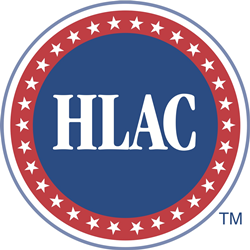 "We are urging healthcare facilities to include among their analysis of their standard precautions a careful review of how their reusable healthcare textiles are processed, or laundered. Their fundamental question should be, 'Is our healthcare laundry accredited?'" - Linda McCurdy, HLAC
PLAINFIELD, Ill. (PRWEB) March 25, 2020
The Healthcare Laundry Accreditation Council (HLAC) is urging healthcare facilities using reusable healthcare textiles (HCTs) to review how they launder their linens as the coronavirus continues to spread across the USA.
"We know, amidst the COVID-19 crisis, that responsible hospitals, nursing homes and other healthcare facilities are scrutinizing their standard precautions for reducing the risk of transmission of pathogens," says Linda McCurdy, board president of HLAC. "This includes their hand-washing techniques, their use of operating-room gowns, their environmental-cleaning procedures, and everything in between.
"We are urging them to include among their analysis a careful review of how their reusable healthcare textiles are processed, or laundered," she said. "Their fundamental question should be, 'Is our healthcare laundry accredited?'"
HLAC is a nonprofit organization that, for more than 10 years, has been inspecting and accrediting laundries that process reusable HCTs for all healthcare facilities around the world. According to McCurdy, HLAC-accredited laundries process HCTs based on the highest standards for patient safety and infection prevention. These HLAC Accreditation Standards have been developed based on federal regulations and guidelines as well as best industry practices. HLAC accreditation affirms that a laundry organization that processes HCTs has successfully passed an inspection of the following: its facility, policies and procedures, training programs, and its relationship with its healthcare customers.
"Policy-wise, the use of reusable HCTs among informed hospitals is clear-cut: Their use is safer, smarter and sustainable and they outperform disposables in every way," McCurdy said. "Furthermore, many of these same hospitals are now requiring HLAC accreditation of their healthcare laundries to be considered an authorized vendor."
Regarding COVID-19, McCurdy notes that laundries that adhere to HLAC Standards are engaged in best practices that include the following of universal precautions, an approach to infection control that treats all human blood and body fluids as if they contain bloodborne pathogens. "For example, per HLAC Standards, our accredited laundries handle all soiled linen as if it has been contaminated. This proper laundering and handling are important not only to the laundry staff but also in achieving and maintaining the hygienically clean quality of healthcare fabrics and textiles delivered to the point of care.
The principal benefit of HLAC accreditation to healthcare is the knowledge and confidence that their textile provider is meeting the highest standards in the industry for processing healthcare textiles, including strict adherence to federal government regulations and guidelines," McCurdy says. "We think that especially now all hospitals and healthcare facilities using reusable HCTs should insist that their laundry is HLAC accredited."
For more information about HLAC, visit http://www.hlacnet.org.