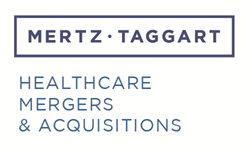 According to Cory Mertz, Managing Partner, Mertz Taggart, "We're not surprised that Q4 was a big quarter. We called it months ago."
FORT MYERS, Fla. (PRWEB) February 04, 2021
Mertz Taggart, a healthcare mergers and acquisitions firm based in Fort Myers, Florida, announced its Q4 transactions for 2020, and overall 2020 transaction highlights, both surpassing expectations.
2020 was a turbulent year for healthcare M&A because of the global pandemic. Consequently, many transactions scheduled to close in the spring and early summer were put on hold until the looming threat of a capital gains tax increase from a new administration took root. This fear spurred many late Q4 closings. The result was a banner year for health care M&A.
Mertz Taggart tracked 133 transactions in 2020 in the home health, home care, and hospice sectors, nearly 25% higher than prior year. Behavioral health remained steady with 97 transactions, matching 2019's total.
Taking a closer look at the home health, home care, and hospice sector, M&A transactions were up 70% vs Q3 2020, and 72% Q4 2019. Deal volume started to recover or trend upward toward the middle of 2020. According to Cory Mertz, Managing Partner, Mertz Taggart, "We're not surprised that Q4 was a big quarter. We called it months ago."
Meanwhile in December, Mertz Taggart completed four in-home care transactions. CareFinders Total Care further built its Philadelphia blueprint by announcing its acquisition of ORI HomeCare. Others include: a large private duty home care agency based in Florida that sold to a Private Equity-backed strategic buyer; a large private duty home care agency based in North Carolina that sold to a Private Equity-backed strategic buyer; and a mid-sized Medicare home health agency in Texas that sold to a family-office-backed strategic buyer.
Turning to the behavioral health sector, a steady second half of 2020 bodes well for 2021.
"The second half of 2020 was as strong as we've seen," as stated by Kevin Taggart, Managing Partner, Mertz Taggart. "Combine that with the threat of a near-term capital gains tax hike, and we expect an active 2021."
Taggart also commented that "The stress of running a company during COVID-19 has pushed many owners to accelerate their plans to sell sooner than they previously thought."
It was a busy Q4 for BayMark Health Services, with four announced deals, including the acquisition of Liberty Bay Recovery Center. Mertz Taggart represented Liberty Bay in the transaction. Other sell-side transactions for Mertz Taggart included Seabrook in New Jersey, acquired by Summit BHC, and Las Vegas Recovery, acquired by Landmark Recovery. Landmark now operates in four states and plans to open ten new locations in 2021.
With an anticipated surge in demand, new center openings, and private equity interest, Taggart believes behavioral health M&A activity could reach a new peak in mid-to-late 2021. The last three years have demonstrated that there is still plenty of room for strategic acquisitions in behavioral health.
To summarize, Q4 2020 was a busy quarter for healthcare M&A. Mertz Taggart successfully closed seven transactions, including its milestone 100th. To keep up with the latest deal trends and activity in home health, hospice, home care, and behavioral health, Mertz Taggart publishes its quarterly healthcare M&A report. Visit the Insights Series page at mertztaggart.com.