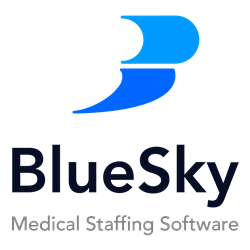 BlueSky's software tools empower small, medium and enterprise healthcare staffing organizations to manage their contingent workforce efficiently.
NASHVILLE, Tenn. (PRWEB) April 01, 2021
BlueSky Medical Staffing Software announces its involvement with the American Staffing Association's groups for the Social Responsibility Committee and the Public Relations and Marketing Committee.
With over twenty-five thousand staffing agencies and companies in the United States, there are a surprising few that volunteer with organizations furthering the socially responsible goals prevalent in today's culture. These types of initiatives are important due to the relationship small businesses have with their industry organizations. Companies look to staffing experts like the American Staffing Association to answer questions and provide advice on sensitive topics, best practices, and more. BlueSky supports the American Staffing Association and their community efforts by contributing to these two highly engaged committees.
For more informative content on the healthcare staffing industry, subscribe to the BlueSky blog.
Providing incredibly informative content to their membership community is one of the shining beacons lighting the way for the staffing industry, especially during the staffing chaos of pandemic times. Hospital staffing relies heavily on contingent workers and a temporary labor workforce. The reasons behind the need vary by health system slightly, yet they all relate to managing the ebb and flow of the annual healthcare needs for their communities. With resources like back-to-work safety procedures, legal advice and research, and internal networking facilitation, organizations like the American Staffing Association are critical to the long-term success of smaller players in the industry, with a domino effect on the success of health systems and hospitals.
BlueSky takes a particularly strong stance when it comes to presenting the staffing industry in a benevolent way. BlueSky's CEO Tim Teague explains, "The staffing industry has provided a resource to the American health system during a very difficult time. Empowering those companies and thereby their employees, in this case the healthcare providers themselves, to perform their roles efficiently and effectively is the driving force behind our team's engagement with the ASA. That requires a positive perception from the public, a knowledgeable network to bounce ideas off of, and a software solution that does the heavy lifting."
Check out why Hospitals and Health Systems across the country choose BlueSky Vendor Management Software for their contingent labor workforce needs.
The committee goals that BlueSky is contributing to will demonstrate the value of the staffing industry, in more than just the healthcare vertical. The staffing and recruiting industry has positively impacted the economy and workforce by connecting employees and employers, providing sixteen million people with jobs in 2019. 2020 statistics are likely to demonstrate a massive amount of placements in healthcare and hospital settings as well. Enhancing the public perception of the industry will provide more incentive and social reward for those who work within it, furthering the workforce flexibility that has become common for the United States today.
As a staffing industry software provider, BlueSky Medical Staffing Software does not represent the interests of an individual agency or organization in terms of recruitment and placements. Instead, BlueSky's software tools empower small, medium and enterprise healthcare staffing organizations to manage their contingent workforce efficiently, with automation and integrative capabilities. Providing resources for health systems and hospitals to manage their subcontracting vendors, vendor risk, medical credentialing and compliance without the pervasive "too big to fail" demeanor of highly visible software providers.
—
BlueSky Medical Staffing Software is an applicant tracking system, vendor management system, staff/nurse scheduling system and invoice/payroll tool combined into one suite for clinical talent and contingent labor management. It benefits many staffing and healthcare companies, solving a plethora of expensive operational problems in daily business practices.
BlueSky is the only staffing software available on the market today that is healthcare specific, accommodates full lifecycle recruitment, front-to-back office workflows, medical credential management, vendor management, workflow automation, and more.