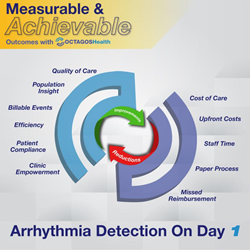 Arrhythmia and Alert Detection On Day One.
HOUSTON (PRWEB) May 11, 2020
Octagos Health, a Houston-based company, recently launched a next generation remote monitoring software platform for patients with implanted cardiac devices. The Octagos software allows healthcare professionals access to cardiac patients' pacemaker, defibrillator or loop recorder data using one portal. The software greatly simplifies the management of remote transmissions and at the same time provides real-time patient insights and analytics in a secure, cloud-based platform. The Octagos software is also able to further improve efficiency with capabilities such as integrating data from over 70 electronic health record (EHR) companies. By streamlining this information, Octagos makes it easy for providers to monitor all of their patients' device data and reduce the possible liability of missing critical transmissions.
While Octagos boosts efficiency and saves time on administrative tasks, the software is especially helpful in the age of COVID-19. Cardiac patients are more vulnerable to the coronavirus than the general population, and healthcare providers are facing overwhelming demand while coping with limited resources. Remote software gives providers the ability to provide high quality care for patients without physical contact. This helps to keep at-risk patients safe while also allowing doctors to manage their time and resources more efficiently.
"When the COVID crisis hit I was worried about how I was going to take care of my patients," said Dr. Shanti Bansal, a Houston physician who also serves as the Director of Medical Affairs for Octagos. "Through the use of the service and software of Octagos, I was able to quickly and easily see all my patients' device information without the worry of missing anything. I was able not only to talk to them about how they were doing, but also to make decisions for their care with relevant data."
While home monitoring is effective, many of these remote tools are still under-used. For Eric Olsen, SVP of Commercial Operations at Octagos, there was a clear opportunity to create new software supported by strong service to address these issues. "It is apparent that remote monitoring continues to be underutilized despite the abundance of data supporting its effectiveness, to include a Class IA recommendation by the Heart Rhythm Society. Our software and service model remove the barriers patients and physicians face on a daily basis that lead to this under utilization," says Olsen.
"We provide the necessary support, such as live representatives and a robust software platform, to ensure patients are consistently transmitting their device data from home. We also reduce the cost of care by providing physician practices with the necessary infrastructure that would be cost prohibitive to implement at the practice level. Our software and service model also greatly improve the consistency and predictability of appropriate billing, which is often very hard for practices to manage."
About Octagos Health: Octagos Health creates cutting-edge software for remote cardiac monitoring backed by a team of very experienced cardiac device experts. The Octagos platform allows healthcare professionals to monitor all of their implanted cardiac device patients using a single platform, streamlining the monitoring process. The Octagos team combines powerful digital monitoring with the personal touch that patients expect from their medical professionals. The result is a revolutionized monitoring process that patients and providers can trust.
Providers can learn more about Octagos Health and schedule a software demo by visiting octagoshealth.com. For additional information, please contact Octagos directly by emailing info@octagoshealth.com or by calling 281-769-8733.
Connect with us https://www.linkedin.com/company/octagoshealth.