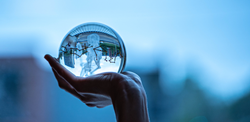 In a very real sense, these adaptations will be essential to ensuring the survival of traditional healthcare providers in the face of powerful new industry entrants leveraging disruptive new ideas and technologies - Kevin Fleming, CEO, Loyale Healthcare
LAFAYETTE, Calif. (PRWEB) August 05, 2020
In its often-heroic ongoing response to the global pandemic, America's healthcare system has repeatedly risen to unprecedented challenges. Regardless of the obstacle - shortages of tests, ventilators and ICU beds; strained lab capacity; scarce supples such as personal protective equipment (PPE) and the cancellation or postponement of all nonessential services - providers across the country have found new and better ways to treat patients affected by COVID-19 while maintaining care delivery to non-COVID patients. Importantly, however, existing systems for patient payment have not kept pace.
Across the healthcare industry, COVID-19 has led to the accelerated adoption of new operating models that promise better, more accessible and more sustainable healthcare. These adaptations are really just the beginning of a longer-term industry transformation that had begun, and was slowly progressing, before the pandemic ever reached our shores. The more-rapid-than-usual adoption of these models has several industry experts looking ahead to a very different kind of healthcare system in the years ahead. One that promises better outcomes for every stakeholder that's prepared to change along with the industry.
In a McKinsey & Company Article titled, Virtual, equitable, and precise: The dean of Stanford's medical school talks about what healthcare could be, Stanford's Lloyd Minor shares a vision for the future of healthcare that bears many similarities to those of other experts - in and outside healthcare. It's an optimistic vision that foresees a focus on wellness across all segments of the population, a more intelligent and affordable choice of care delivery channels, and actions to address the social determinants that have such a profound effect on health across the country. It's an approach that relies far more on the virtual, digital delivery of care and an emphasis on data-driven research and development that focuses on prediction and prevention.
It's important to note that the future envisioned by Mr. Minor and others is not unrealistically optimistic or merely aspirational. The changes anticipated address longstanding deficiencies in American healthcare and the measures that must be taken to cure them. In a very real sense, these adaptations will be essential to ensuring the survival of traditional healthcare providers in the face of powerful new industry entrants leveraging disruptive new ideas and technologies in a market environment where the balance of power has shifted to the consumer.
Healthcare's transformational adaptations fall into several broad categories, each addressing inefficiencies created or sustained by the fragmentation of information, treatment and payment that affects so much of healthcare today – both for healthcare providers and consumers. They include:

Consumer-centered: According to one expert cited below, "Acute healthcare hospitals will no longer be the center of gravity, consumers will." In this healthcare system, providers must win the trust and business of patients (consumers) who have been empowered with open access to their personal health data and a growing array of options for where to seek care.
Accessible and Affordable: As empowered healthcare consumers assert their authority, the traditional payer-provider dynamic will also shift toward patients. Patients, who have until now been at the mercy of their health plan and its negotiated rates with preferred providers, will decide who gets their money - both out-of-pocket (now more than a third of healthcare revenue) and insurer-paid. A technology platform like Loyale Patient Financial Manager™, allows some of America's largest providers to present prospective patients with virtual financial engagement including price and payment options that bring care within reach, reduce billing and collection friction and improve the probability of payment. All at a fraction of the traditional cost of patient collections.
Virtual: Healthcare providers dabbled in the digital delivery of care and other patient experiences prior to COVID-19, but telehealth usage exploded immediately following the announcement of the national emergency. Providers moved quickly to expand existing technologies for much higher volumes, supported by temporarily adjusted Medicare/Medicaid policies for full care reimbursement. For providers, virtual care delivery benefits extend well beyond their contact-free attributes. They're also scalable, highly efficient (allowing for much higher physician and staff productivity) and flexible. Most experts agree that "virtual" will continue to be a much larger part of the healthcare delivery system from now on.
Data-driven and interoperable: In healthcare, "interoperable" refers to the ability for disparate systems to share information. True, full interoperability has been a goal for years, leading to the creation of a federal agency, the Office of the National Coordinator for Health Information Technology (ONC) under the U.S. Department of Health and Human Services. In reality, industry-wide adoption of true, full-scale interoperability is yet to be achieved though incremental improvement has been occurring. All of the adaptations predicted here are predicated on the fulfillment of broad-scale interoperability.
Well care, not just sick care: Open access to data (above) and powerful technology tools like artificial intelligence (AI) will enable more predictive models for populations - both geographic and demographic - who are more at risk for poor health. Healthcare will evolve from a focus on treating disease to predicting and preventing it. Initiatives that fall under this category will focus on the social determinants affecting health and wellness of all patients and care delivery models that bring care closer to where it's needed.
Susceptible to market share loss to disruptive competitors: As noted above, these adaptations are not wishful thinking. According to the experts – and affirmed by market research – healthcare's transformation is not expected to be optional. Traditional providers may be tempted to dig in and protect their existing share, but powerful new industry entrants and the partnerships they forge will certainly not allow that strategy to prevail.
Echoing some of the adaptations envisioned by Mr. Minor, Harvard Business Review's "What Will U.S. Health Care Look Like After the Pandemic?", author Robert S. Huckman reminds industry observers that, "Amidst the immediacy of this crisis, it is important to begin to consider the less-urgent-but-still-critical question of what the American health care system might look like once the current rush has passed. In particular, what can the system learn from the existential challenges it faces due to the spread of COVID-19?", noting that, "A few broad lessons are emerging."
Mr. Huckman's analysis also envisions virtual care delivery, pointing out federal and state regulatory changes expanding the ability to deliver telemedicine services and easing "the requirement that physicians have a separate license in each state in which they practice." And, in light of the fact that for now the government's support is temporary, "whether (telemedicine) becomes lasting may largely depend on how existing providers embrace this new model during this period of increased use due to necessity." At Loyale, we contend that this genie is out of the bottle. Consumer demand and competitive pressure will ensure its survival.
As mentioned above, many of these adaptations were already underway well before the COVID-19 crisis began. In analysis published by Deloitte in the spring of 2019 titled, "Forces of change - The future of health", the authors summed up their findings by concluding that, "The future of healthcare will likely be driven by digital transformation enabled by radically interoperable data and open, secure platforms. Health is likely to revolve around sustaining well-being rather than responding to illness."
In their 20-year outlook, the Deloitte analysts predict that, "care will be organized around the consumer, rather than around the institutions that drive our existing healthcare system." And that, "exponential changes (in technology) will accelerate the pace of disruption." They go on to warn industry stakeholders that, "Technology-focused companies such as Google, Amazon and Apple are beginning to disrupt the existing market and reshape the model. Legacy stakeholders should consider whether to disrupt themselves or isolate and protect their offerings to retain some of their existing market share. Incumbent players that are able to reinvent themselves could help usher in the future of health, while some could succumb to competition coming from outside the traditional industry boundaries."
We've cited only a few of the many expert and industry voices whose vision for the future fall into alignment. Although COVID-19 has acted as a catalyst to accelerate the industry's transformation, it's comforting to remember that many of the transformational achievements that have emerged from the crisis were already on the industry's drawing board. COVID has confirmed that we're on the right track.
Kevin Fleming is the CEO of Loyale Healthcare
About Loyale
Loyale Patient Financial Manager™ is a comprehensive patient financial engagement technology platform leveraging a suite of configurable solution components including predictive analytics, intelligent workflows, multiple patient financing vehicles, communications, payments, digital front doors and other key capabilities.
Loyale Healthcare is committed to a mission of turning patient responsibility into lasting loyalty for its healthcare provider customers. Based in Lafayette, California, Loyale and its leadership team bring 27 years of expertise delivering leading financial engagement solutions for complex business environments. Loyale currently serves approximately 12,000 healthcare providers across 48 states. Loyale is proud to have an enterprise-level strategic partnership with Parallon which includes the deployment of Loyale's industry leading technology at all HCA hospitals and Physician Groups.