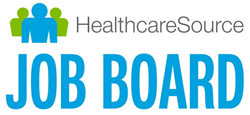 Woburn, Mass. (PRWEB) September 05, 2017
HealthcareSource®, the leading provider of talent management solutions for the healthcare industry, today launched HealthcareSource Job Board, a new leading healthcare job search website. At launch, Job Board offers more than 50,000 open jobs in healthcare. HealthcareSource Job Board is a valuable resource for both employers and job seekers, and aims to be the leading professional development and job search destination for the healthcare industry.
Job Board is the latest addition to the HealthcareSource Quality Talent Suite, which enables healthcare organizations to hire and develop the necessary talent required to provide the best patient care possible. This makes HealthcareSource the only talent management solutions provider to include a job board as part of its platform, creating an end-to-end talent acquisition portfolio.
"The ability to recruit and retain top talent is one of the key differentiators between healthcare organizations that are successful and those that struggle," says J.P. Fingado, HealthcareSource President and Chief Executive Officer. "We are bringing healthcare employers and job seekers together by providing advanced search functionality, making it easier and faster for recruiters to fill key roles. A proven technology-enabled talent acquisition process creates efficiencies that positively affect a healthcare organization's ability to provide high-quality care and reduce costs."
HealthcareSource Job Board is fully integrated with all versions of HealthcareSource Position Manager®, the company's applicant tracking system, which has processed more than 100 million candidate applications to date. This unique integration allows for automatic posting and applicant source tracking at no additional cost for Position Manager clients. Users can instantly publish the job posting to the Job Board from within the applicant tracking system, immediately expanding their reach to tens of thousands of potential applicants.
Any healthcare organization or healthcare staffing firm may also post their open positions on the Job Board to reach desirable job seekers actively seeking new opportunities in healthcare. To learn more, visit http://www.healthcaresource.com/jobboard.
About HealthcareSource:
HealthcareSource® is the only comprehensive talent management suite designed specifically to support the healthcare talent ecosystem. Our software, services, content, and analytics enable more than 3,300 healthcare organizations and staffing agencies to ensure quality patient care by recruiting, retaining, and developing quality talent — both employees and contingent staff. HealthcareSource has been recognized for their award-winning healthcare talent management solutions, having earned the exclusive endorsement of the American Hospital Association (AHA).