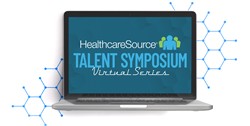 WOBURN, Mass. (PRWEB) July 29, 2020
HealthcareSource©, the leading provider of talent management solutions for the healthcare industry, today announced its Talent Symposium 2020 will be held virtually on September 23-24.
By attending the virtual Talent Symposium, healthcare HR leaders and professionals will receive two half days of industry insights that will help them transform their approach to healthcare talent management. Featuring keynotes and experts from both HealthcareSource and outside organizations, speakers will address the most pressing challenges acute and post-acute facilities are facing today.
HealthcareSource's Talent Symposium agenda is designed to provide actionable, practical guidance on how to hire, retain and grow your staff across the entire continuum of care – even in the middle of a pandemic. Sessions will include insight on talent management trends and strategies and solving key challenges in healthcare recruiting, as well as COVID-19-specific initiatives like hiring in a virtual world and managing mental health in the workplace.
Attendees can expect:

Thought leadership keynotes and interactive product-specific sessions
Client-led success stories with valuable takeaways
Virtual peer networking opportunities through our event platform
One-on-one chats with HealthcareSource experts
SHRM & HRCI continuing education credits
And more
To learn more and save your seat, view the full agenda and register for free here.
Additional Resources: