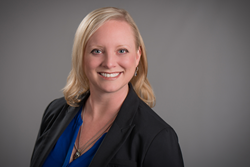 MILWAUKEE (PRWEB) May 11, 2021
Healthfuse, the industry leader in managing and sourcing revenue cycle vendors for hospitals and health systems, welcomes Jessica Yard aboard the company's leadership team as Vice President of Revenue Cycle. Jessica will serve as a revenue cycle subject matter expert responsible for implementing, executing and managing strategic initiatives, and working directly to support Healthfuse's clients.
"Having worked in every area of revenue cycle, Jessica is joining the Healthfuse team with the provider perspective," says Nick Fricano, Founder and Chief Executive Officer of Healthfuse. "With our VMO platform and execution solutions positioned to deliver $1 billion in value to our hospital partners in 2021, adding Jessica to the team further strengthens our trajectory. Her leadership experience will allow us to continue to innovate and grow. We are thrilled to have her join our team."
"Healthfuse is a clear leader in revenue cycle vendor management," says Jessica. "I know what it's like for providers to try to manage vendors on their own, and because of that experience, I appreciate the innovative solutions Healthfuse offers. They get a tremendous amount of work done and are always transparent with both vendors and hospital partners. I look forward to being a part of the team and continuing the great work they are already accomplishing."
Jessica is an experienced revenue cycle leader with a demonstrated history of working in the hospital and health care industry. She comes to Healthfuse from Hospital Sisters Health System where she served for 10 Years. Jessica held various leadership roles including revenue cycle analyst, project manager, support analyst and most recently as interim patient access director of the Illinois Division while also working as system director of revenue cycle. Jessica graduated from Benedictine University with a bachelor's degree in Business Administration, Management and Organizational Behavior. In 2019 she received a master's degree in Business Administration from LSU Shreveport.
About Healthfuse
Healthfuse drives revenue cycle vendor performance by building, operating, and optimizing hospital vendor management offices. Working with 160+ hospitals and health systems, creating $650M in bottom-line improvement to date, the Healthfuse VMO platform provides a customizable suite of vendor management applications backed by a dedicated execution team to accelerate cost savings and collections improvement. Healthfuse ensures hospitals and their revenue cycle vendors operate in full transparency, delivering accountability, efficiency, and bottom-line results. Healthfuse is a New Capital Partners portfolio company. Find us here: https://healthfuse.com Follow us here: LinkedIn, Twitter.