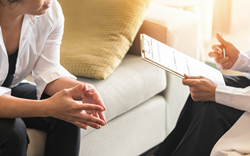 EMDR furthers our goal of helping patients heal from trauma by enabling them to process traumatic memories in a safe, supportive environment, leading to a better quality of life.
LA MIRADA, Calif. (PRWEB) August 16, 2019
Healthpointe is proud to announce the launch of their new psychological service, Eye Movement Desensitization and Reprocessing therapy (EMDR). This therapeutic technique aims to reduce psychological distress, promote healing, and strengthen healthy, adaptive beliefs. EMDR is an evidence-based practice used for post-traumatic stress disorder (PTSD), depression, chronic pain, anxiety, and grief. EMDR is applicable for a wide range of psychological problems.
EMDR is based on the idea that symptoms occur when trauma and other negative experiences overwhelm the brain's natural ability to heal. EMDR utilizes bilateral stimulation to aid the healing process by having the individual safely process traumatic memories until the distressing memory is no longer disturbing. EMDR also focuses on strengthening the individual's adaptive beliefs about themselves, leading to an improved quality of life.
The EDMR program is offered at multiple Healthpointe medical clinics throughout Southern California. Leading this new program is psychologist Dr. Stephanie Johnson, Psy.D. Dr. Johnson has received extensive training in the field of clinical psychology with a specialization in traumatology. "EMDR is a remarkably effective therapeutic approach that we are happy to offer at Healthpointe," said Dr. Johnson. "In addition to our current cognitive behavioral therapy treatment, EMDR furthers our goal of helping patients heal from trauma by enabling them to process traumatic memories in a safe, supportive environment, leading to a better quality of life."
For your psychological needs or if you would like more information about the new EMDR service, contact Healthpointe at (888) 824-5580 or visit http://www.healthpointe.net
About Healthpointe:
Healthpointe is a leading multidisciplinary healthcare organization offering a full range of medical services in practice locations throughout Southern California (Los Angeles county, Orange county, San Bernardino county and Riverside county). Healthpointe has locations situated in over 10 cities in Southern California including Los Angeles. As a highly regarded musculoskeletal group, we have a personal investment in the highest level of service, and we are proud of our record of excellence over the last four decades with private patients, injured workers, urgent care, personal injuries, and professional and non-professional athletes. Leading our organization is a dynamic team of healthcare professionals who continually strive to be at the forefront of medical innovation and healthcare service delivery. For more information, a complete list of services, and Healthpointe locations, visit https://www.healthpointe.net/