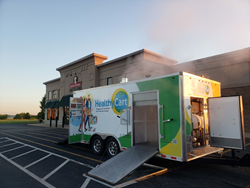 "We just got to have it, it's a plus plus everybody's happy,"..."The customers are happy, I'm happy, it takes away a little of the labor for my people cause it's supposed to last for 25-30 days. It's a plus plus for everybody." Joey Laureys, Groceries By Joe
SOUTH BEND, Ind. (PRWEB) November 12, 2020
Sanitizing cart handles miss larger problems associated with germ and bacteria growth on shopping carts and carry baskets surfaces. Invisible contaminants on shopping cart surfaces are a risk to users and continue to be a challenge for big box store sanitation operations. A University of Arizona study in 2012 demonstrated that of the 85 random carts tested for harmful germs and contaminants 51% detected E. coli; 72% coliform. Current in store solutions are labor intensive, and if not applied correctly, ineffective from providing the claimed sanitizing effects. The CDC recommends periodic washing and disinfecting of non porous, hard surfaces for a proper cleaning protocol. New shopping cart cleaning, disinfecting and protection equipment manufactured by Healthy Cart is providing a better way to wash and disinfect shopping carts while closing the disinfection gap between cleaning with antimicrobial protection.
As featured on ABC 57's Made In Michiana: Grocery Cart Cleaning System That Keeps You Safe, Groceries by Joe owner Joe Laureys states when asked about the cart cleaning experience provided by the Healthy Cart service, "We just got to have it, it's a plus plus everybody's happy,"..."The customers are happy, I'm happy, it takes away a little of the labor for my people cause it's supposed to last for 25-30 days. It's a plus plus for everybody."
Healthy Cart cleaning equipment, a product of Podell Environmental, is a mobile cart cleaning trailer that cleans, disinfects shopping carts and applies a 30+ day antimicrobial germ fighting inhibitor. The equipment is built into a mobile, fully enclosed wash trailer. It is designed for contractors to take from store to store to provide the cleaning and coating as a service. The mobile wash station can be described as a car wash for carts, a quick, efficient and consistent method to clean shopping carts processing over 140 carts an hour per machine. The cleaning and disinfecting wash solution is filtered and recycled creating an environmentally friendly, EPA compliant process for wastewater disposal. Healthy Cart has equipment operating across the country with plans for expansion.They have received interest from prospective equipment buyers from all over the US and Canada with potential buyers as far away as New Zealand and Kuwait.
George Podell, President of Podell Environmental explained the process this way, "We think there is a huge opportunity to eliminate stress both on the consumer when they visit the grocery store or other retail locations while reducing the current hard and soft costs of dedicating people to the cart corral for sanitation operations on the retail management level. Our equipment not only cleans the whole cart but it effectively disinfects the cart as well. One of the main ingredients in our secret sauce is the cart protection between cleanings. This allows contractors to set up monthly cleaning contracts with store operators creating a new market opportunity for equipment owners."