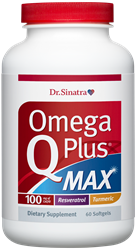 More than 9 out of 10 (94%) users would recommend Dr. Sinatra's Omega Q Plus products.
BETHESDA, Md. (PRWEB) December 11, 2019
Healthy Directions LLC recently conducted a consumer study showing that buyers of its Omega Q Plus® line of supplements report improvements in heart health checkups, more energy, feeling more active, and improvements in cholesterol levels since they started taking an Omega Q Plus product.
Formulated by integrative cardiologist Dr. Stephen Sinatra, the Omega Q Plus supplements combine efficacious doses of Omega-3s, Coenzyme Q10, L-Carnitine, Chromium and B vitamins to support healthy aging, overall heart health, healthy blood pressure and cholesterol, and endothelial health. The newest and fastest-selling product in Dr. Sinatra's line, Omega Q Plus® MAX, also includes highly bioavailable turmeric for added inflammatory support.
"This study was important for us to fully understand how well our products are working for real customers. Our formulas are backed by extensive science, but nothing beats real, tangible results," said Ben Teicher, President of Healthy Directions. "Knowing that Omega Q Plus supplements are helping customers feel better—and get results their own doctors can measure—is incredible. That's why we do what we do."
This study, conducted with 143 active users, showed that:

More than 8 out of 10 (81%) users reported having a better heart health check-up since taking Omega Q Plus
More than 7 out of 10 (71%) users reported having more energy
7 out of 10 (70%) users reported feeling more active
More than 9 out of 10 (92%) users who have taken fish oil report that their Omega Q Plus product has more benefits than fish oil alone
Nearly 9 out of 10 (88%) users who have taken CoQ10 report that their Omega Q Plus product has more benefits than CoQ10 alone
9 out of 10 (90%) users consider their Omega Q Plus product to be one of the most important supplements they take
More than 9 out of 10 (94%) users would recommend Dr. Sinatra's Omega Q Plus products to others with similar health concerns
All Omega Q Plus products have also earned certification from NSF International, a global public health organization. NSF certification helps consumers identify products that have been independently tested and certified to meet rigorous standards for quality, safety and label claims.
Omega Q Plus MAX has broken sales records in its first year on the market, and is now available at GNC stores nationwide, as well as through the Healthy Directions and Dr. Stephen Sinatra catalogs and websites (http://www.healthydirections.com and http://www.drsinatra.com).
About Healthy Directions: Healthy Directions LLC, a subsidiary of Adaptive Health LLC, is a leading health publisher and direct-to-consumer retailer of doctor-formulated nutritional supplements and skincare products, dedicated to providing people with a better path to better health. Healthy Directions provides expert guidance and advanced nutritional supplements from some of America's most knowledgeable and highly respected integrative- and alternative-health doctors including Julian Whitaker, MD; Dr. David Williams; Stephen Sinatra, MD; Aaron Tabor, MD; Drew Sinatra, ND; Richard Wurtman, MD; and Joseph Pergolizzi, Jr., MD. For more information, please visit http://www.HealthyDirections.com/About-Us
About Adaptive Health: Adaptive Health is a leader in science-based product development with a full portfolio of scientifically formulated nutritional health brands, including Nugenix®, Instaflex®, Peptiva®, Lumiday®, Dr. Sinatra®, Dr. Williams™, Dr. Whitaker®, Sleep Answer®, and Trilane®. Adaptive Health products are sold in many major retailers across North America and internationally, as well as via its innovative direct-to-consumer ecommerce platform. For more information, please visit http://www.AdaptiveHealth.com.