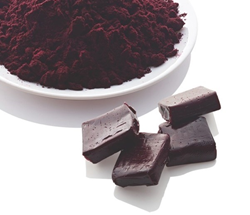 "Not only does our cold-press process set our chews apart from other products on the market, we are excited to offer this product incorporating THC-free hemp cannabinoid broad spectrum distillate."
FARGO, N.D. (PRWEB) April 21, 2020
Healthy Food Ingredients (HFI) announced its new product Suntava® Purple Soft Chews + THC-free hemp cannabinoid broad spectrum distillate, available for private label or white label packing.
The soft chews are produced using a patented, cold-press technology, rather than utilizing heat which can easily damage sensitive ingredients. Also, uncooked or cold-processed soft chews are less chewy and do not stick to your teeth.
"Our chews bring a unique offering to store shelves and websites which stand out amongst gummies, tinctures and soft gels," notes Terry Howell, Suntava Purple Corn™ expert for Healthy Food Ingredients. "Not only does our cold-press process set our chews apart from other products on the market, we are excited to offer this product incorporating THC-free hemp cannabinoid broad spectrum distillate," adds Howell.
Each Suntava Purple Soft Chew delivers 500 mg of purple corn extract powder providing 7.5 mg of anthocyanins along with 11.8 mg of THC-free hemp cannabinoid broad spectrum distillate for 10 mg of naturally occurring phytocannabinoids.
HFI's soft chews contain no artificial flavors, colors or preservatives and are offered in a natural blueberry flavor with additional options including turmeric and melatonin.
Each chew is individually wrapped for on-the-go convenience and available in bulk, pouches or cannisters. "I'm thrilled to bring this new on-trend product to the industry and offer samples so our customers can experience the chews first-hand," notes Howell.
To learn more about Suntava's power of purple, download our white paper: HFIfamily.com/SuntavaPurpleCorn.
About Healthy Food Ingredients (HFI)
Healthy Food Ingredients is an on-trend specialty ingredient supplier bringing food safety and supply assurance to protect your brand promise.
We start with a sustainable supply chain, backed by IntegriPure®, our innovative micro reduction process, to offer a full portfolio of ingredients including non-GMO, organic and gluten-free pulses, grains, seeds, flax, expeller oils, and signature product Suntava Purple Corn™, with unique processing capabilities for milling, flaking and blending and consumer-ready products. Looking for a private label brand? We can help with that too!
We are dedicated to delivering safe, healthy, premium-quality ingredients in partnership with our diverse grower network.
Learn more at HFIfamily.com.
HFI is supported by Horizon Holdings, LLC, a San Francisco-based private investment firm with a significant track record in successfully building private and public companies.