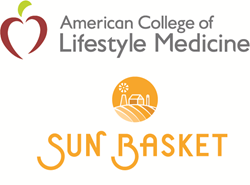 "With Sun Basket healthy eating at home can be easier for busy people."
ST. LOUIS (PRWEB) October 18, 2018
The American College of Lifestyle Medicine (ACLM) has announced the addition of Sun Basket, Inc. to its Lifestyle Medicine Corporate Roundtable, a group of individuals and organizations whose collective vision is sustainable human health, a sustainable health care system and a sustainable world.
Founded in San Francisco in 2014, Sun Basket is a healthy meal kit service that delivers fresh, organic produce and responsibly sourced meats and seafood with delicious, easy recipes. Sun Basket makes it easy for its customers to cook healthy, with plant based whole-food options among its meal plans. Customers can stick to their plan, or mix and match any of the 18 weekly recipes. The recipes are created by Chef Justine Kelly, the former Chef de Cuisine at San Francisco's James Beard Award-winning Slanted Door restaurant, and a former contestant on "Iron Chef America."
In response to industry concerns about wasteful packaging in meal kits, Sun Basket puts particular focus on sustainable packaging, including recyclable paper insulation liners; ice packs made from non-GMO cotton and water; and fully recyclable or compostable ingredient containers.
"Healthy eating is not one-size-fits-all," said Sun Basket Co-Founder and CEO Adam Zbar. "Sun Basket is committed to bringing consumers the variety and convenience to cook and eat healthy and delicious meals, no matter their dietary needs. We're thrilled to be part of a like-minded community of professionals that understands the impact food can have on health and wellbeing."
"With Sun Basket healthy eating at home can be easier for busy people," ACLM President George Guthrie, MD, MPH, FACLM. "Sun Basket offers individuals and families the opportunity to choose whole-food, plant-based healthy meals at home without having to shop or spend a long amount of time in meal preparation."
The Corporate Roundtable of the American College of Lifestyle Medicine convenes health care and lifestyle thought leaders, with a keen focus on the power of Lifestyle Medicine to transform health and healthcare. Roundtable members explore effective Lifestyle Medicine clinical applications, strategies for accelerating reimbursement, and adoption and analysis of potential business-related opportunities. The Roundtable launched in 2015 and has grown to include more than 30 active member organizations.
ABOUT THE AMERICAN COLLEGE OF LIFESTYLE MEDICINE: ACLM is the medical professional society for those dedicated to the advancement and clinical practice of Lifestyle Medicine as the foundation of a transformed and sustainable health care system. Lifestyle Medicine treats, often reverses and prevents chronic disease. It is the combined use of evidence-based lifestyle therapeutic approaches, such as a predominantly whole food, plant-based diet, regular physical activity, adequate sleep, stress management, avoidance of risky substance use and other non-drug modalities.
More than a professional association, ACLM is a galvanized force for change. ACLM addresses the need for quality education and certification, supporting its members in their individual practices and in their collective mission to domestically and globally promote Lifestyle Medicine as the first treatment option, as opposed to a first option of treating symptoms and consequences with expensive, ever increasing quantities of pills and procedures. ACLM members are united in their desire to identify and eradicate the root cause of disease. Learn more at http://www.LifestyleMedicine.org.
ABOUT SUN BASKET:
Founded in San Francisco in 2014 by Webby-winner Adam Zbar and Chef Justine Kelly, former Head Chef at the Slanted Door, a James Beard Award-winning restaurant, Sun Basket is an innovative, healthy cooking service that delivers the best pre-measured, organic produce, clean ingredients and easy-to-cook, delicious recipes weekly to your door. Sun Basket saves busy people the time of planning and shopping so they can focus on the fun part of cooking and enjoying the meal. Personalized for your lifestyle and diet, Sun Basket provides a seasonally inspired Chef's Basket, along with Paleo, Lean & Clean, Gluten-Free, Vegan, Vegetarian, Pescatarian, Mediterranean, Diabetes-Friendly, and Quick & Easy meal options. Based in San Francisco, Sun Basket is backed by top-tier venture capitalists. Don Barnett, co-founder of organicgirl produce is COO. For more information, please visit http://www.sunbasket.com or find the brand on Facebook, Instagram, Pinterest or Twitter.