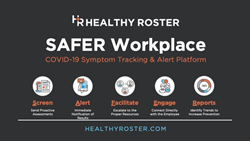 It's never been more imperative for people to be aware of how they are feeling and the immediate impact their health has on those around them. With SAFER Workplace, we're uniquely suited to help employers and employees work together to keep everyone healthy and safe
DUBLIN, Ohio (PRWEB) May 05, 2020
Occupational Healthcare communication company Healthy Roster announced the release of its SAFER Workplace platform. The solution is built for organizations, teams, and institutions that need the ability to log, track and communicate COVID-19 statuses across employees, locations and geographies easily.
The SAFER Workplace platform was built for Occupational Medicine, Safety and Human Resource leaders to save organizations from having to invent their own manual tracking systems which could take weeks to develop, train and deploy across the workforce. Instead, using Healthy Roster allows you to upload your employees and immediately begin to send text-based surveys to check of COVID-19 symptoms to your entire workforce. No downloads or passwords required, each employee can easily and regularly report how they feel, sending alerts to designated management when someone needs more attention.
Started in 2015, Healthy Roster's HIPAA-compliant platform serves over 200 health systems and hospital networks across the US. Built on the Amazon healthcare cloud, customer data is secure and protected, with major redundancies and backups to protect sensitive information.
SAFER Workplace is a secure, automated set of proactive communication protocols that provides the ability to:

Screen individuals for COVID-19 symptoms using simple text messages
Alert personnel automatically when an individual indicates at-risk symptoms
Facilitate immediate responses in line with established protocols
Engage the employee quickly via chat and video to conduct assess and advise
Reports identify trends and hotspots to prevent workplace spread
Given the unprecedented nature of establishing pandemic return to work COVID-19 protocols, the SAFER Workplace platform is easily updated and tailored to your organization as federal and state requirements continue to evolve.
CEO Nathan Heerdt states, "Our goal has always been to help keep people healthy and on the job. It's never been more imperative for people to be aware of how they are feeling and the immediate impact their health has on those around them. With SAFER Workplace, we're uniquely suited to help employers and employees work together to keep everyone healthy and safe from COVID-19."
##
Powering secure healthcare communications with a mobile-first platform, Healthy Roster supports Occupational Health and Safety leaders across Industrial Employers, Healthcare Systems, and Educational Institutions. Healthy Roster delivers powerful mobile documentation and communication tools, which improves organizations ability to provide better care to their personnel. Built on a HIPAA compliant infrastructure, Healthy Roster also enables patients to easily communicate with administrators or medical providers, reducing misunderstandings and delays in care to reduce time to care. For more information, visit https://www.healthyroster.com/safer-workplace.