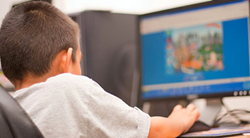 For some kids, an online education could mean the difference between completing their education and dropping out.
Fort Lee, NJ (PRWEB) August 13, 2013
Traditional classroom education for lower, middle and high school students may be a thing of the past, as online education programs like K12 take advantage of technology while resolving the challenges that traditional classroom education poses in the 21st century. In a new blog from HealthyForKids.com dated August 7, 2013 and titled, The K12 Tuition-free Online School Option," guest blogger Liz Ernst takes an up-close look at online education programs and their role in overcoming modern problems with traditional classroom learning.
Thanks to the Internet and modern technology, parents and children now have access to educational opportunities that can change not only who learns, but also how they're learning. Webcams, live streaming and document sharing programs have placed high quality education squarely into the hands of students who are unable or unwilling to take lessons in a conventional classroom.
"What began as a convenient way for college students to earn a degree by studying from home around their work and family responsibilities has now expanded to elementary and high school students who can opt to learn and earn their required classroom credits from home," Ernst says. "For anyone who has experienced bullying in school, or for those students with dyslexia, ADHD or other learning disabilities who struggle in a conventional classroom, an online education could mean the difference between completing their education and dropping out.
"For children whose parents relocate often due to their careers, for those who live in a school district that does not perform well, an online education is a seriously viable option."
K12, the largest online education program in the U.S., promotes individualized learning through full-time, tuition-free public and private school programs worldwide, and through individual courses for supplemental needs or homeschooling.
"The K12 public program partners with area schools to offer a quality education led by degreed, certified teachers with all the convenience and benefits of home schooling," Ernst says. "All it takes is a computer and a commitment to seeing your child through their educational programs.
"Best of all, it's an excellent opportunity for parents who may not have the knowledge base to home school their children independently.
HealthyForKids.com is a part of Marble Media LLC's conglomerate of content-rich information distribution blogs offering tips, advice, encouragement and gossip on everything from fashion to health, marriage and much more. For more information, visit the HealthyforKids.com website, or email info(at)healthyformommies(dot)com.
About Marble Media LLC:
Marble Media LLC is a creator of high-quality, content-rich blog sites that provide expansive coverage of relevant information to readers who make up a wide range of demographics. The Marble Media LLC team of expert writers covers a wide range of specialties including travel, food, health, fitness, social media, marriage, parenting, technology, weight loss, fashion and much more.
###