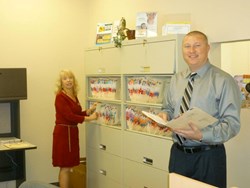 Indio, CA (PRWEB) September 06, 2013
Hearing Aid HealthCare is committed to patient education and providing only the best, accurate information about hearing aid styles, technology and prices. Consumers have a lot of questions about shopping for a first hearing aid, and there is a lot of misleading information used in advertising hearing aids. Many people looking for hearing aids in Indio CA are very confused and unsure who to trust.
That's why Hearing Aid HealthCare created the Hearing Review resource guide, a booklet packed with quality information about purchasing hearing aids in Indio CA. The 7-page document dispels common myths about hearing aids and explains all the parts of a hearing aid, the electronics included in the device and how the device work. The Review contains many excellent articles ranging from what to expect at a hearing exam to social strains from hearing loss to how to select a hearing professional. Another article in the Hearing Review explores satisfaction rates among hearing aid users and shares the stories of local hearing aid wearers in their own words.
Visit Hearing Aid HealthCare's website at http://www.hahc.net to download a free copy of the Hearing Review.
About Jeannette Hait
Jeannette Hait, co-founder of Hearing Aid HealthCare, has been in the hearing aid profession since 1989. She is a Licensed Hearing Aid Dispenser, a Certified Audioprosthologist, a Certified Occupational Hearing Conservationist and is Nationally Board Certified in Hearing Instrument Sciences. Jeannette Hait has also been a Proctor for the Department of Consumer Affairs licensing board since 1997 and is a member of Hearing HealthCare Providers of California and has been a past board member as well. She is also a member of the International Hearing Society.
About Hearing Aid HealthCare
Hearing Aid HealthCare has provided hearing aids to the Coachella Valley communities of Palm Desert, Sun City, Palm Springs, Indio, Borrego Springs and Yucca Valley for several years. The company offers a full range of diagnostic and preventative hearing services, including hearing tests and hearing aids sales and fittings. The staff is dedicated to keeping abreast of the latest improvements in technological advancements in the hearing industry and are committed to offering the most current technology options to their patients.
Contact:
Jeannette Hait
Hearing Aid HealthCare
44630 Monterey Avenue, #100
Palm Desert, CA 92260
(760) 610-0145
Hearing Aid HealthCare
39615 Washington Street, Suite C
Palm Desert, CA 92211
(760) 610-0425
Hearing Aid HealthCare
555 S. Sunrise Way, Suite #116
Palm Springs, CA 92264
(760) 904-0171
Hearing Aid HealthCare
655 Palm Canyon Drive
Borrego Springs, CA 92004
(760) 989-4005
Hearing Aid HealthCare
80150 Hwy 111, Suite C-2
Indio, CA 92201
(760) 989-4005
Hearing Aid HealthCare
56669 29 Palms Hwy, Suite G
Yucca Valley, CA 92284
(760) 820-4850