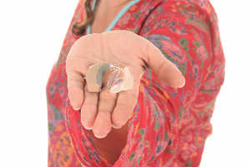 Kingsport, TN (PRWEB) February 27, 2014
It can be hard to find quality information about hearing problems and hearing aids in Kingsport. It's typical to be inundated with marketing flyers and promotions for hearing aids in Kingsport; especially if you are over age 65. Beltone of the Tri-Cities felt there was a need to provide better, neutral information and facts to individuals struggling with hearing loss. As a result, they created a brand new website featuring educational content on hearing loss, hearing aids, ringing in the ears and assistive listening devices. The redesigned website is 100% devoted to hearing care education. It offers in-depth answers to the questions that hearing instrument specialists encounter most frequently and a blog section where the staff can update patients on new technologies, hearing loss research breakthroughs, as well as local events. The website is split into sections as follows:
The Hearing Info/Hearing Loss area of the website teaches visitors how the ear and brain work together to make hearing possible. It describes how the sense of hearing works and looks at the parts that can go wrong to cause a hearing impairment.
The area on Hearing Aids gives visitors a complete overview of the advantages and disadvantages of different hearing aid styles. Looking for hearing aids can be extremely confusing because of all the different acronyms used to describe the hearing aid designs (such as ITE for in-the-ear) and the complex sounding technical capabilities (such as Bluetooth enabled). A little independent research to discover the major options and terminology related to hearing aids really helps new patients ask better questions once they visit a hearing instrument specialist. Last but not least there is information about the many hearing aid accessories which range from batteries, to cleaning supplies to dehumidifiers.
As well as the educational pages, the website has a Services section with specifics about the major services offered at Beltone of the Tri-Cities including Hearing Evaluations, Tinnitus Treatment and Hearing Aid Fittings and Adjustments.
Troy Greenwald and the whole team at Beltone of the Tri-Cities are extremely enthusiastic about the release of the new website and the role it can play in providing high-quality hearing care information to Kingsport residents. They invite suggestions and comments for improving the website to make it the best resource possible.
About Troy Greenwald
Hearing Instrument Specialist, Troy Greenwald attended the Quinnipiac University in Connecticut and American University in Washington, DC before purchasing the Beltone of Tri-Cities practice in March of 2011. As the owner, Troy's focus is on creating an environment with the highest quality patient care standards and no sales pressure.
About Beltone of the Tri-Cities
Beltone of the Tri-Cities, the only full-service Beltone™ Hearing Instrument Specialist in the Tri-Cities area, provides innovative, personalized hearing loss solutions and unbeatable friendly, caring service. Their living room-like offices are designed to make patients feel welcome and relaxed from the moment they arrive. In addition to offering a wide array of highly innovative hearing aid solutions – including wireless assisted hearing technology – Beltone of the Tri-cities provides complimentary hearing examinations and will service all brands of hearing aids regardless of age. Beltone has 3 clinic locations in the Tri-Cities area of Tennessee in Kingsport, Johnson City and Bristol TN.
Contact:
Troy Greenwald
http://tricitiesbeltone.com
Beltone of the Tri-Cities
2408 Memorial Blvd
Kingsport, TN 37664
(423) 343-4104
Beltone of the Tri-Cities
516 W Oakland Ave
Johnson City, TN 37601
(423) 328-1250
Beltone of the Tri-Cities
28 Midway St
Bristol, TN 37620
(423) 484-0313