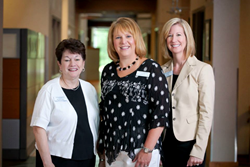 Norfolk, VA (PRWEB) August 26, 2014
For a limited time, the audiologists at Virginia Hearing Consultants are offering complimentary hearing screenings. A decrease in hearing ability affects each person differently therefore the only way to discover whether an individual has hearing loss is to visit a hearing professional for a complete screening. Virginia Hearing Consultants is pleased to offer Norfolk, Virginia area residents a free screening as the first step to achieving better hearing. The screening includes a consultation with an audiologist to review results and discuss treatment options (if appropriate), but carries no obligation.
Untreated hearing loss has been linked to many other emotional, physical, mental and psychological problems. It has also been shown to create economic disadvantages for working-age people who don't address their reduced hearing ability. One of the most common myths about hearing loss is that only old people suffer from it. The truth is that 2/3 of people with hearing loss are under the age of 65 and likely still in the workforce. There are many causes of hearing loss and not all hearing loss can be corrected through the use of hearing aids or alternative listening devices. A professional evaluation is required to determine the cause, severity and treatment options available to each person.
About Dr. Theresa Bartlett
Dr. Theresa Bartlett Au.D. is the primary audiologist at Virginia Hearing Consultants. She founded a private audiology practice in Norfolk in 2003 which later merged with another to form Virginia Hearing Consultants in 2005. Dr. Bartlett earned her Bachelor's Degree in Speech Pathology from James Madison University, her Master's Degree in Speech and Hearing Sciences from the University of Southern Mississippi, and her Doctorate in Audiology from the Arizona School of Health Sciences. Dr. Bartlett is certified by the American Speech and Hearing Association and is a member of the American Academy of Audiology and the Tidewater Audiology Society. She is also a member of the Academy of Doctors of Audiology.
About Virginia Hearing Consultants:
Virginia Hearing Consultants has provided hearing aids in Norfolk, Virginia and its surrounding communities for over 9 years. The company offers a full range of diagnostic and preventative hearing healthcare professional services, including hearing aid screening, evaluations, hearing aids sales and rehabilitative and preventative counseling. The staff is dedicated to keeping abreast of the latest improvements in technological advancements in the hearing industry and is committed to offering the most current options to our patients.
Contact:
Dr. Theresa Bartlett
http://virginiahearing.com
Virginia Hearing Consultants
241 Corporate Blvd., Suite 150
Norfolk, VA 23502
(757) 847-5989