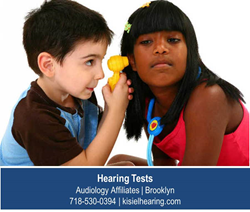 Brooklyn, NY (PRWEB) May 28, 2014
As an initial step in diagnosing hearing loss, the National Hearing Test is a wonderful option. Produced with National Institutes of Health (NIH) funding, it offers a phone-based hearing test to screen for functional hearing loss. While a great step forward in drawing attention to hearing loss nationwide and completing initial screenings, the telephone-based test has its limits. It is not a substitute for the types of comprehensive hearing tests performed by audiologists. When test takers score outside the normal range or have questions specific to their situation, they'll need the assistance of a local professional. The audiologists at Audiology Affiliates are available to carry out more in-depth hearing testing and furnish personalized guidance to Brooklyn area residents who want local assistance after completing the National Hearing Test.
The National Hearing Test launched in May 2014 and is being offered free for the rest of May as part of Better Speech and Hearing Month. From then on, the test will cost eight dollars. The test screens for one particular type of hearing problem - the ability to differentiate speech from noise - referred to by audiologists as functional hearing. Test takers receive an assessment of Normal, Slightly Below Normal or Poor for each ear. Participants are referred to local audiologists for follow-up following the test. The 'After the Test' page says, "If your results from the National Hearing Test were "marginal or below normal," you should make an appointment for a complete hearing evaluation by a certified hearing professional. Even if your results are in the "normal" range but you still have concerns about your hearing, we encourage you to seek a complete hearing evaluation as well."
Audiology Affiliates is available for comprehensive hearing testing for residents of Brooklyn and adjacent areas. They are very happy to answer the follow-up questions from anyone who took the National Hearing Test and to administer a more complete hearing evaluation. The publicity generated by the debut of the National Hearing Test is providing much needed attention to the subject of hearing loss. As more people are screened, the need for in-office hearing testing and individualized treatment plans and follow-up health care increases too. Audiology Affiliates is excited to position themselves as the leading local clinic for hearing testing in Brooklyn that residents can turn to after completing the national screening.
It is worth noting that to obtain reliable results from the National Hearing Test, a land-line (not cellular) telephone is needed. Participants will also have to have the finger dexterity and coordination to enter over fifty numbers into the telephone's number pad. People in Brooklyn who suspect a hearing problem and who would have difficulty taking the test by phone should directly make an appointment for a comprehensive hearing test at Audiology Affiliates.
About Dr. Dennis Kisiel, Ph.D
Dr. Dennis Kisiel is a highly experienced audiologist and hearing aid dispenser. Before receiving his Doctorate of Sciences in 1979 from the University of Memphis, Dr. Kisiel provided clinical services at Louisiana State University School of Medicine for two years and completed his dissertation on Tinnitus at Kresgee Research Institute of the South. For the next ten year, Dr. Kisiel served as a Director of Audiology, first at the Cleveland Speech and Hearing Center at Case Western Reserve University (1980-82) and later at the The Long Island College Hospital (LICH) in Brooklyn NY (1982-1990). In 1990, Dr. Dennis Kisiel became the owner of Audiology Affiliates in Brooklyn NY.
In 2008 Dr. Kisiel founded one of the few Tinnitus Diagnosis and Treatment Centers in New York City. He continues to be the onlycertified provider of the Neuromonics Tinnitus Treatment Program in Brooklyn. He is a Fellow-level member of the American Tinnitus Association. Throughout his career, Dr. Dennis Kisiel has authored numerous research publications, served as a university professor, and acted as consultant to the hearing aid industry and to the City of New York Public Health Programs.
About Audiology Affiliates
Audiology Affiliates serves Brooklyn, NY and its surrounding communities with a full range of audiology services including a complete range of diagnostic and preventative hearing services and hearing aids. Audiology Affiliates is committed to the continued development of their hearing aid professionals and to community education about hearing health topics. They offer regular Hearing Aid Open House programs to educate an inform Brooklyn residents about hearing loss and hearing aid technology. With over 39 years of experience, the licensed audiologist at Audiology Affiliates welcomes new and returning patients.
Contact:
Dr. Dennis Kisiel
http://kisielhearing.com
Audiology Affiliates
142 Joralemon St., Ste 6A
Brooklyn, NY 11201
(718) 530-0394