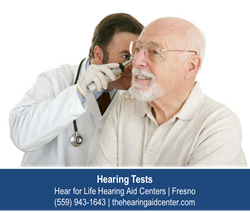 Fresno, CA (PRWEB) May 29, 2014
The NIH-funded, phone-based National Hearing Test makes it fast and simple for any person to get an initial hearing test to identify functional hearing loss in one or both ears. Even so, it's important for all test participants to be aware of the limits of phone-based screenings and the advantages of a comprehensive in-office hearing test performed by a hearing specialist. The hearing specialist at Hear For Life Hearing Aid Centers are helping to spread the word about the National Hearing Test while making themselves available for appointments and questions in Fresno and surrounding areas.
The National Hearing Test can be found at nationalhearingtest.org and costs eight dollars. During Better Speech and Hearing Month, the test is free of charge for the month of May 2014. Since it is phone-based, the test was created as a speech in noise test. It is best thought of as a screening for functional hearing - the ability to hear in daily situations. Test takers receive an assessment of "Poor", "Slightly Below Normal" or "Normal" for each ear. After concluding the test, participants are encouraged to consult a local hearing specialist as the next step. The instructions that follow the National Hearing Test state, "If your results from the National Hearing Test were "marginal or below normal," you should make an appointment for a complete hearing evaluation by a certified hearing professional. Even if your results are in the "normal" range but you still have concerns about your hearing, we encourage you to seek a complete hearing evaluation as well."
Hear For Life Hearing Aid Centers in Fresno wants to be the provider of choice for following up on screening results from the National Hearing Test. The knowledgeable hearing specialist are prepared to conduct further testing, provide advice and respond to questions. The publicity generated by the release of the National Hearing Test is providing much needed attention to the subject of hearing loss. As awareness grows so will the need for experienced local hearing specialist to evaluate and treat individual cases of hearing loss. The hearing care team at Hear For Life Hearing Aid Centers is excited about positioning themselves as a core provider of hearing testing and hearing loss treatment in Fresno.
The National Hearing Test is a fantastic screening resource and the hearing care staff at Hear For Life Hearing Aid Centers hopes that many people will make use of it; however, its not the ideal first step for everyone. It does require the finger dexterity to enter several sequences of numbers into the telephone number pad and a telephone with a wall-mounted jack to get accurate results. For anyone who currently suspects hearing loss or would have a hard time completing the screening test, the hearing specialist at Hear For Life Hearing Aid Centers recommend calling to schedule an in-person hearing evaluation.
About Hear For Life Hearing Aid Centers:
Hear For Life Hearing Aid Centers is a family owned and operated business serving Central California's hearing healthcare needs 1986. Our team members are experts in hearing care, and also in patient care so expect friendly smiles and white glove treatment. The goal at Hear For Life Hearing Aid Centers is to serve patients hearing needs with the best hearing technology at the most competitive prices. Contact any one of the ten Central CA Valley locations in Fresno, Bakersfield, Madera, Reedley, Porterville, Selma, Visalia, Tulare, Sanger or Delano.
Contact:
Doug Hall
http://thehearingaidcenter.com
Hear for Life Hearing Aid Centers
4836 N 1st St # 102
Fresno, CA 93726
(559) 943-1643
Hear for Life Hearing Aid Centers
4580 California Ave
Bakersfield, CA 93309
(559) 412-5916
Hear for Life Hearing Aid Centers
550 E Almond Ave #B
Madera, CA 93637
(888) 770-1012
Hear for Life Hearing Aid Centers
1592 11th St Ste D
Reedley, CA 93654
(888) 770-1012
Hear for Life Hearing Aid Centers
1205 Evergreen St
Selma, CA 93662
(888) 770-1012
Hear for Life Hearing Aid Centers
316 W Acequia Ave
Visalia, CA 93291
(888) 770-1012
Hear for Life Hearing Aid Centers
2502 Jensen Ave
Sanger CA 93657
(888) 770-1012
Hear for Life Hearing Aid Centers
557 W Morton Ave Ste A
Porterville, CA 93257
(800) 655-1755
Hear for Life Hearing Aid Centers
1070 N Cherry St
Tulare, CA 93274
(800) 655-1755
Hear for Life Hearing Aid Centers
1205 Garces Hwy #207
Delano, CA 93215
(800) 655-1755