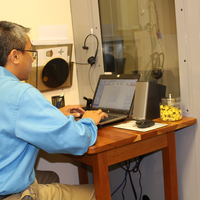 Geneva, IL (PRWEB) May 28, 2014
The National Hearing Test, a telephone-based functional hearing test developed with funding from the National Institute of Health (NIH), is an excellent first step in detecting hearing loss in one or both ears. That said, the test is not a substitute for a comprehensive hearing assessment in the office of an audiologist. The audiologists at Geneva Hearing Services are helping to get the word out about the National Hearing Test while making themselves available for appointments and questions in Geneva and surrounding areas.
The National Hearing Test launched in May 2014 and is being offered free for the remainder of May which happens to be Better Speech and Hearing Month. Normally, the test will cost eight dollars. The test screens for one particular type of hearing difficulty - the ability to distinguish speech from noise - known to audiologists as functional hearing. At the end of the screening, the system immediately gives a score for each ear. The possible ratings are "Normal", "Slightly Below Normal" or "Poor". Participants are referred to local audiologists for follow-up after the test. The 'After the Test' page on the National Hearing Test website says, "If your results from the National Hearing Test were "marginal or below normal," you should make an appointment for a complete hearing evaluation by a certified hearing professional. Even if your results are in the "normal" range but you still have concerns about your hearing, we encourage you to seek a complete hearing evaluation as well."
Geneva Hearing Services in Geneva, IL wants to be the local provider of choice for following up on screening results from the National Hearing Test. The experienced audiologists are equipped to conduct further testing, provide advice and answer questions. The audiologists are excited about the publicity that the National Hearing Test is producing for hearing problems in America and encourage anyone who suspects a hearing problem to take the phone-based test (particularly during the free testing period). As participation in the screening test increases, the demand for local audiologists to give case-specific treatment plans and advice will also increase. Geneva Hearing Services is delighted to position themselves as the premiere local provider of hearing testing in Geneva, IL that residents can turn to after completing the national screening test.
The National Hearing Test is an excellent screening tool and the hearing care team at Geneva Hearing Services hopes that many people will make use of it; however, its not the right first step for everyone. It does require the coordination to type in many strings of numbers into the telephone number pad and a telephone with a wall-mounted jack (not a cellphone) to get accurate results. For any person who currently suspects hearing loss or would have difficulty completing the screening, the audiologists at Geneva Hearing Services recommend calling to schedule an in-person hearing test.
About Dr. Maria Morrison AuD:
Dr. Maria Morrison is a licensed Illinois audiologist having earned her doctorate degree from the Pennsylvania College of Audiology in 2006. Before joining Geneva Hearing Services, Dr. Morrison obtained extensive clinical audiology experience in a hospital setting and as part of a private ENT practice. In addition to providing a full range of diagnostic services to discover the source of a person's hearing loss and fitting patients with hearing aids, where appropriate, Maria is one of the few audiologists in Illinois who is qualified to offer Tinnitus Retraining Therapy.
About Geneva Hearing Services
Geneva Hearing Services provides hearing healthcare to residents of Geneva, IL and surrounding communities. With four audiologists on staff, Geneva Hearing Services is able to offer the full range of audiology services including diagnostic services, preventive services and the fitting of hearing aids. For its hearing aid patients, Geneva Hearing Services offers counseling, adjustments, and regular hearing aid cleanings. Geneva Hearing Services is committed providing the latest technological advancements in the hearing industry from major manufacturers and to providing a pressure-free buying experience.
Contact:
Dr. Maria Morrison
http://genevahearing.com
Geneva Hearing Services
637 W State St
Geneva, IL 60134
(630) 618-2419