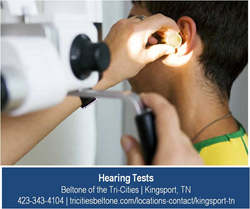 Kingsport, TN (PRWEB) April 30, 2014
Hearing Loss is often associated with aging and is generally a combination of things including the build up of earwax, exposure to loud noises, and the natural process of aging. Typically the loss of hearing is gradual, allowing most sufferers to continue with their daily lives seemingly unaffected. Because the loss is so gradual, there is often an event or combination of events that causes one to finally have their first hearing test. One of the most common events that convince those with hearing loss to get tested is a loved one insisting that the television is always too loud. The delay in getting a hearing test is not always that the sufferer doesn't notice how bad their hearing has gotten, most often the hearing impairment is ignored because they think wearing hearing aids will make them 'old'. Other people resist because they are concerned about the cost of tests and don't want to pay for a full hearing evaluation if they aren't sure about the severity of their hearing loss and just want to ask a hearing professional some questions.
Kingsport TN hearing test and hearing aid provider, Beltone of the Tri-Cities, believes that each individual is unique and wants to reduce as many obstacles as possible for those with questions or concerns. The hearing professionals at Beltone of Tri-Cities is now offering complimentary hearing evaluations for people that just want to learn about their hearing health, how it can be affected by their lifestyle, and if there are any tips or tools to help them live normal daily lives. This complimentary hearing evaluation is the first step in determining if a hearing problem even exists. If hearing loss is detected, the next step is to learn about treatment options from the hearing health professional. Sometimes, hearing loss is caused by something as simple as excessive earwax which can easily be removed. Many Kingsport TN residents are concerned that visiting a hearing specialist, even for a complimentary hearing exam, will lead to the recommendation for purchasing hearing aids, but there are many causes and treatments - everyone is different.
More information about the free hearing test, hearing loss, and hearing aids can be found on the Beltone of the Tri-Cities website or by calling their office directly.
About Troy Greenwald
Hearing Instrument Specialist, Troy Greenwald attended the Quinnipiac University in Connecticut and American University in Washington, DC before purchasing the Beltone of Tri-Cities practice in March of 2011. As the owner, Troy's focus is on creating an environment with the highest quality patient care standards and no sales pressure.
About Beltone of the Tri-Cities
Beltone of the Tri-Cities, the only full-service Beltone™ Hearing Instrument Specialist in the Tri-Cities area, provides innovative, personalized hearing loss solutions and unbeatable friendly, caring service. Their living room-like offices are designed to make patients feel welcome and relaxed from the moment they arrive. In addition to offering a wide array of highly innovative hearing aid solutions – including wireless assisted hearing technology – Beltone of the Tri-cities provides complimentary hearing examinations and will service all brands of hearing aids regardless of age. Beltone has 3 clinic locations in the Tri-Cities area of Tennessee in Kingsport, Johnson City and Bristol TN.
Contact:
Troy Greenwald
http://tricitiesbeltone.com
Beltone of the Tri-Cities
2408 Memorial Blvd
Kingsport, TN 37664
(423) 343-4104
Beltone of the Tri-Cities
516 W Oakland Ave
Johnson City, TN 37601
(423) 328-1250
Beltone of the Tri-Cities
28 Midway St
Bristol, TN 37620
(423) 484-0313