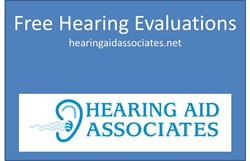 Lemoyne, PA (PRWEB) September 16, 2013
Hearing often declines gradually. There is typically no sudden event that triggers hearing loss, but rather a combination of aging, noise exposure and wax build-up that causes hearing ability to drop off. Because the decline is gradual and doesn't initial affect quality of life, many people delay getting a hearing test until the loss is quite significant and noticeable. People wait to get a hearing test for a variety of reasons, the most common of which is the perception that hearing aids are only for old people. However, some wait because of cost. If they are uncertain there is anything wrong with their hearing, they many not want to pay for an appointment just to ask a few questions.
Hearing Aid Associates in Lemoyne PA wants anyone who has questions or concerns about their hearing to come ask and find out the truth. They want to reduce as many barriers as possible, so they have made the initial hearing evaluation entirely free. The complimentary hearing evaluation is the first step in discovering whether a hearing problem exists and learning about treatment options. For some people, their hearing loss is caused by excessive ear wax which can be easily removed to restore proper hearing. Too many Lemoyne PA residents assume that any visit to a hearing specialist will result in a recommendation for hearing aids, but that is not the case.
More information about the free hearing evaluation program at Hearing Aid Associates is available on their website or by calling the location nearest you.
About Hearing Aid Associates:
Hearing Aid Associates is one of the most reputed hearing healthcare service providers in Pennsylvania with nine locations. Hearing Aid Associates has provided hearing aids to the Southeastern Pennsylvania area and its surrounding communities for over 10 years. The company offers a full range of diagnostic and preventative hearing healthcare professional services, including hearing aid screening, evaluations, hearing aids sales and rehabilitative and preventative counseling. The staff is dedicated to keeping abreast of the latest improvements in technological advancements in the hearing industry and is committed to offering the most current options to our patients. There are currently 9 Hearing Aid Associates locations in Boyertown, Cleona, Kennett Square, Lemoyne, Palmyra, Phoenixville, Pottstown, Reading, Harrisburg,
Contact:
Ed Grabarek
http://hearingaidassociates.net
Hearing Aid Associates
20 N. 12th St., Suite 341
Lemoyne, PA 17043
(610) 816-6020
Hearing Aid Associates
115 E. Main St
Palmyra, PA 17078
(717) 473-4160
Hearing Aid Associates
6 Hearthstone Ct, Suite 105
Reading, PA 19606
(610) 816-6024
Hearing Aid Associates
1610 Medical Dr, Ste 103
Pottstown, PA 19464
(610) 482-4164
Hearing Aid Associates
1220 Valley Forge Rd., Suite 1B
Phoenixville, PA 19460
(484) 985-4029
Hearing Aid Associates
35 North Walnut St
Boyertown, PA 19512
(484) 334-2595
Hearing Aid Associates
4500 Oakhurst Blvd., Suite 315
Harrisburg, PA 17110
(717) 745-1177
Hearing Aid Associates
211 West Penn Avenue
Cleona, PA 17042
(717) 685-4115
Hearing Aid Associates
305 W State St #2
Kennett Square PA 19348
(610)-400-1408