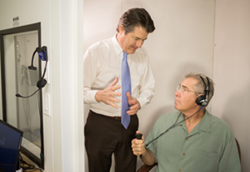 Santa Barbara, CA (PRWEB) May 29, 2014
As a first step in diagnosing hearing loss, the National Hearing Test is a wonderful option. Developed with National Institutes of Health (NIH) funding, it provides a telephone-based hearing test to screen for functional hearing loss. However, it's important for all test takers to understand the limits of telephone-based screenings and the advantages of a complete in-office hearing test performed by an audiologist. The audiologists at Dodero Hearing Center agree that spreading the word about the National Hearing Test is important. Equally important is having local audiologists available in Santa Barbara to conduct in-depth hearing tests and offer individualized counseling for individuals that score outside of the normal range on their screening test.
The National Hearing Test launched in May 2014 and is being offered free for the rest of May as part of Better Speech and Hearing Month. From then on, the test will cost eight dollars. Since it is phone-based, the test is designed as a speech in noise test. It is best regarded as a screening for functional hearing - the ability to hear in daily situations. At the conclusion of the screening, the system immediately gives a rating for each ear. The possible ratings are Normal, Slightly Below Normal or Poor. After finishing the test, test takers are urged to consult a local audiologists as a next step. The instructions that follow the test state, "If your results from the National Hearing Test were "marginal or below normal," you should make an appointment for a complete hearing evaluation by a certified hearing professional. Even if your results are in the "normal" range but you still have concerns about your hearing, we encourage you to seek a complete hearing evaluation as well."
The audiologists at Dodero Hearing Center want to support Santa Barbara area residents by being the best local provider of complete hearing tests and advice about treating various types of hearing loss. The publicity generated by the release of the National Hearing Test is bringing much needed attention to the subject of hearing impairment. As more individuals are screened, the need for in-office hearing testing and personalized treatment plans and follow-up health care rises too. The hearing care staff at Dodero Hearing Center is excited about positioning their practice as the primary provider of hearing testing and hearing loss treatment in Santa Barbara.
Although the National Hearing Test is an excellent starting point for many individuals, it does require a wall-mounted phone connection, a quiet testing location and the finger dexterity to correctly enter sequences of numbers into the phone. Any person who suspects hearing loss and would have difficulty completing the telephone-based screening is urged to schedule an assessment directly with a local audiologist.
About Dr. David Dodero
Dr. David Dodero has been providing quality hearing health care services to the Santa Barbara community since 1977. He received his BA degree in Speech & Hearing at UC Santa Barbara in 1975, his Master's degree in Audiology at CSU Los Angeles in 1976, and his Doctorate degree in Audiology at Arizona School of Health Sciences in 2004. From 1977-1992 he held the position of clinical audiologist at the prestigious Sansum Clinic in Santa Barbara. In 1992, he opened Dodero Hearing Center to offer comprehensive diagnostic hearing assessments and the most advanced hearing technologies. Dr. Dodero believes in giving back to the community by offering free hearing screenings, educational classes at retirement facilities, and educational Lunch & Learn seminars that teach skills for the hearing-impaired person to better communicate with others.
About Dodero Hearing Center
Dodero Hearing Center is a full service Audiology clinic providing the most comprehensive hearing care available including hearing protection, diagnostic hearing loss testing and the fitting of hearing aids in Santa Barbara. Dodero Hearing Center uses the most advanced hearing technologies available and takes pride in the fact that as the field of hearing aid technology changes they change with it. Dodero Hearing Center is a multi-line dispensing audiology practice offering quality hearing instruments from many of the top manufacturers including Oticon, Phonak, Sonic Innovations and Widex. Dodero Hearing Center will ensure your hearing aids fit comfortably, work properly, and give you the maximum hearing enhancement available.
Contact:
Dr. David Dodero
http://doderohearing.com
Dodero Hearing Center
1801 State Street, Ste A
Santa Barbara, CA 93101
(805)-284-0889