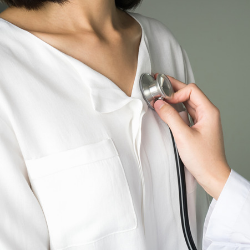 "The goal is to assess, test and diagnose before an emergency room visit becomes necessary," says Long. "The new protocol is to identify risk factors early, get patients tested for potential blockages and arrhythmias, and then aggressively treat problems."
LOWELL, Mass. (PRWEB) March 12, 2019
A recent study, published in the cardiology journal Circulation, found that women between the ages of 35 and 55 accounted for 21 percent of reported heart attacks among women between 1995 and 1999. But they accounted for 31 percent of reported heart attacks among women between 2010 and 2014 -- an increase of nearly 50 percent. The increase in reported heart attacks among young women occurred even as the incidence among young men in the same age group remained constant.[1] And doctors are trying to figure out why. "Today's technology makes diagnosis much more patient-friendly and non-invasive," says Stuart Long, CEO of InfoBionic, manufacturer of MoMe Kardia® – a wearable remote cardiac monitor that sends detailed heartbeat data directly to doctors' mobile device in real time, enabling rapid diagnosis and intervention in patients with cardiac problems.
Heart disease is the number one killer of both men and women, accounting for 610,000 deaths each year and a quarter of all deaths among women, according to the Center for Disease Control. Heart attacks strike 735,000 Americans each year.[2] Further, almost two-thirds (64%) of women who die suddenly of coronary heart disease have no previous symptoms.[3] Women are significantly more likely than men to die of their first heart attack – a phenomenon that may be related to the tendency of both women and their doctors to minimize symptoms or misattribute them to menopause, stress or other issues.
Early diagnosis is critical, say doctors. The key is in encouraging at-risk people in to see their doctors. The need is especially critical for women, who are statistically less likely to be effectively treated. One UK study found that women are much less likely than men to be given stents to clear up blocked arteries, or to be prescribed cholesterol-lowering medications (statins), blood-thinners or aspirin after their first heart attack.
Fortunately, detecting and treating heart disease before it becomes critical is possible with transformative technology in ambulatory cardiac monitoring.
The American Heart Association recommends women get frequent screens for high blood pressure, cholesterol levels, and weight/body mass index every year or two, and more often for those with blood pressure over 120/80, high cholesterol or who are overweight.
Those identified at risk should consider seeing their cardiologists for a coronary calcium scan to detect arterial plaque, a CT angiogram, which uses X-rays to spot early signs of heart disease, and cardiac monitoring for arrhythmia.
"The goal is to assess, test and diagnose before an emergency room visit becomes necessary," says Long. "The new protocol is to identify risk factors early, get patients tested for potential blockages and arrhythmias, and then aggressively treat problems."
In this way, cardiologists are able to treat patients with moderate cases of hypertension or high cholesterol and get them screened early for atherosclerosis or detect cardiac arrhythmias. Patients can then make lifestyle adjustments, get on appropriate medications to reduce blood pressure and cholesterol, and get a pacemaker or defibrillator implanted to correct dangerous arrhythmias, if necessary – measures that the Centers for Disease Control and Prevention estimate could prevent over 200,000 heart disease deaths per year.
About InfoBionic
InfoBionic is a digital health company transforming the efficiency and economics of ambulatory remote patient monitoring processes by optimizing clinical and real-world utility for the users that need it most – physicians and their patients. The Massachusetts-based team of seasoned entrepreneurs have had successful careers in healthcare, IT, medical devices and mobile technology, and bring specific expertise in remote monitoring and cardiology. They have seen first-hand the complexities of traditional cardiac arrhythmia detection and monitoring processes and designed the transformative MoMe® Kardia platform to remove the roadblocks hindering faster, more effective diagnosis and decision-making. Frost & Sullivan bestowed the 2019 North American Remote Cardiac Monitoring Technology Leadership Award upon InfoBionic. For more information visit http://www.infobionic.com
Sources
1. Circulation, "Myocardial Infarction in Young Women an Unrecognized and Unexplained Epidemic." 19 February 2019. Web.
2. Center for Disease Control and Prevention, "Heart Disease Facts." 28 November 2017. Web.
3. Circulation, Heart Disease and Stroke Statistics -- 2012 Update. 15 Dec 2011. Web.
4. Journal of the American Heart Association, "Acute Coronary Syndrome: The Risk to Young Women." 22 December 2016. Web.
5. CBS News, "CDC: 200,000 Heart Disease Deaths Could Be Prevented Each Year."