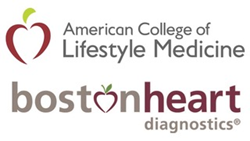 Insights from these diagnostics and tools have the power to change the way health care providers and patients communicate about heart health.
ST. LOUIS (PRWEB) August 02, 2018
The American College of Lifestyle Medicine (ACLM) has announced the addition of heart health innovator Boston Heart Diagnostics to its Lifestyle Medicine Corporate Roundtable, a group of individuals and organizations whose collective vision is sustainable human health, a sustainable health care system and a sustainable world.
Boston Heart is transforming the treatment of cardiovascular disease with novel diagnostics, reports and a personalized, scientifically designed nutrition and lifestyle program. The insights from these diagnostics and tools have the power to change the way health care providers and patients communicate about heart health.
The company was founded by accomplished lipidologists, clinicians and scientists who have dedicated their careers to revealing the mechanisms of cardiovascular disease progression. Through extensive research and clinical studies, they showed that standard lipid profiling did not adequately identify individuals at risk for cardiovascular disease and went on to develop and make available advanced methodologies to address this unmet medical need. They integrate results from their exclusive tests, other CVD-focused tests and patient history to create highly personalized laboratory reports that provide health care professionals with a comprehensive picture of a patient's heart health.
"Boston Heart Diagnostics works with providers and organizations that specialize in Lifestyle Medicine and disease prevention," said Michael Dansinger, MD, the company's Medical Director of Patient Wellness. "Participating in the American College of Lifestyle Medicine's Corporate Roundtable is a natural fit for us and has led to valuable collaborations and relationships."
"Boston Heart Diagnostics engages individuals in their own well-being while giving them the measurement tools they need to make wise decisions as to behaviors that can reduce their risk of cardiovascular disease," said ACLM President George Guthrie, MD, MPH, FACLM. "Their detailed approach empowers both patients and providers with the identification of specific behaviors that can address the inflammatory cardiovascular pathologies while tracking their improvement. ACLM is pleased to have them in our Corporate Roundtable."
The Corporate Roundtable of the American College of Lifestyle Medicine convenes health care and lifestyle thought leaders, with a keen focus on the power of Lifestyle Medicine to transform health and health care. Roundtable members explore effective Lifestyle Medicine clinical applications, strategies for accelerating reimbursement, and adoption and analysis of potential business-related opportunities. The Roundtable launched in 2015 and has grown to include more than 30 active member organizations.
ABOUT THE AMERICAN COLLEGE OF LIFESTYLE MEDICINE: ACLM is the medical professional society for those dedicated to the advancement and clinical practice of Lifestyle Medicine as the foundation of a transformed and sustainable health care system. Lifestyle Medicine treats, often reverses and prevents chronic disease. It is the combined use of evidence-based lifestyle therapeutic approaches, such as a predominantly whole food, plant-based diet, regular physical activity, adequate sleep, stress management, avoidance of risky substance use and other non-drug modalities.
More than a professional association, ACLM is a galvanized force for change. ACLM addresses the need for quality education and certification, supporting its members in their individual practices and in their collective mission to domestically and globally promote Lifestyle Medicine as the first treatment option, as opposed to a first option of treating symptoms and consequences with expensive, ever increasing quantities of pills and procedures. ACLM members are united in their desire to identify and eradicate the root cause of disease. Learn more at http://www.LifestyleMedicine.org.
ABOUT BOSTON HEART DIAGNOSTICS: Boston Heart Diagnostics, a subsidiary of Eurofins Scientific (EUFI.PA), is focused on the treatment and prevention of disease by offering novel diagnostics that drive a personalized approach to improve patient health. Boston Heart's comprehensive and integrated approach is composed of color-coded test results that provide interpretations and clinical treatment considerations to help providers characterize a patient's risk, individualized reports that improve patient adherence to treatment plans and a personalized nutrition plan to engage patients in lasting lifestyle change. See https://www.bostonheartdiagnostics.com.