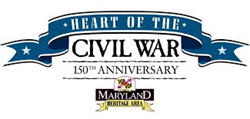 FREDERICK, Md. (PRWEB) October 31, 2018
The Heart of the Civil War Heritage Area (HCWHA), a certified heritage area encompassing parts of Carroll, Frederick and Washington counties, will be hosting a Year-in-Review celebration at the Washington County Museum of Fine Arts on Monday, November 12, from 7 pm to 9 pm. This is an opportunity to hear about the work done in the Heritage Area, including grant awards, over the past year as well as plans for the coming year in the region.
The program will feature Christopher Shank, Chief Legislative Officer to Governor Larry Hogan, who will speak on growing up surrounded by history in Washington County. Additionally, special recognition will be given to Special Secretary of Smart Growth, Wendi Peters, for her role, as the former Secretary of Planning and Chair of the Maryland Heritage Areas Authority, in supporting legislation that paved the way for increased heritage areas funding. As a result, $463,887 in heritage area grants was awarded to nonprofits and government entities in Carroll, Frederick and Washington Counties for fiscal year 2019.
Guests are invited to enjoy refreshments following the program. The program is free and open to the public, though RSVPs are appreciated. Please contact Assistant Director Emily Huebner at emily@heartofthecivilwar.org or 301-600-4031 to RSVP.
For more information, contact Executive Director Elizabeth Scott Shatto at liz@heartofthecivilwar.org or Assistant Director Emily Huebner.