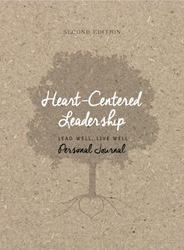 The Heart-Centered Leadership journey is not necessarily an easy one because it asks you to look deep inside yourself and explore your leadership strengths and shortcomings. -- Susan Steinbrecher
Dallas, TX (PRWEB) June 01, 2016
Susan Steinbrecher, CEO of Steinbrecher And Associates and her coauthor Dr. Joel Bennett first pioneered the concept of Heart-Centered Leadership over 13 years ago. Since then a second edition of the book has been released. "Heart-Centered Leadership: Lead Well, Live Well" advocates the seven leadership principles needed to create a connected, relationship-based workplace.
Heart-Centered Leadership is not a singular gold standard or pinnacle that only a rare few can achieve. True Heart-Centered Leadership lies in one's ability to stop, go inward, and reflect on the course of action that we know is the right one, rather than succumbing to external pressures and circumstances.
To support this process, the Heart-Centered Leadership Journal was written as a companion piece to the book, Heart-Centered Leadership. The journal includes well-researched exercises in self-development that serve to expand leadership skills, accelerate personal growth, and professional development.
Over the past 20 years there has been significant data proving that investment in the human element in business is a profit-making proposition. It is no secret that programs directed at employee engagement, leadership development, wellness, and employee assistance all show a significant return-on-investment for employers.
"Business owners, executives, managers or anyone in a leadership position who genuinely lead with their heart -- not just their head -- are more equipped to connect with the emotional needs of employees," says Steinbrecher. "They understand that people want to be valued, respected, listened to and involved. Leaders who consistently show their employees that they are appreciated possess the wisdom and capacity to run thriving, profitable businesses."
There is a great cost when the human connection point in business is ignored. People work at their very best and their highest levels when they're committed to an organization, not when they are forced to comply.
To learn more: http://www.steinbrecher.com/heart-centered-leadership/ and http://www.steinbrecher.com/store/
Susan Steinbrecher is a business consultant and coauthor of Heart-Centered Leadership: Lead Well, Live Well. She is the CEO of Steinbrecher And Associates in Hurst, Texas, and serves as an executive coach, licensed mediator, professional speaker and leadership advisor. She is also the author of the Amazon bestseller, KENSHO: A Modern Awakening. Susan is an Inc.com columnist, Entrepreneur.com contributor and Huffington Post blogger. Her work has been featured on MSNBC's Your Business, The New York Times, Fortune Small Business, BusinessInsider.com, CNBC.com and CNNMoney.com. Connect with Susan on Twitter: @SteinbrecherInc
Media Contact: Joanne Moyle/Jill Armstrong | J.E. Moyle Consultants | jill(at)jemoyleconsultants(dot)com