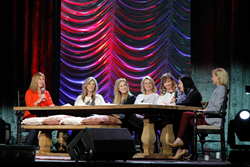 Thousands of women showed up to hear fantastic messages and powerful praise
West Monroe, LA (PRWEB) February 28, 2015
The inaugural Heart to Home Conference, put on by Mason Jar Productions and Heart to Home Ministry, was held in Monroe, La. on Feb. 6-7, 2015 at the Monroe Civic Center. Heart to Home Ministry was founded in 2003 by Dr. Joneal Kirby as a multi-generational mentoring program to help Christian women connect and develop meaningful relationships, and to encourage spiritual growth and development.
The women's conference featured a host of speakers including Dr. Joneal Kirby, the women of Duck Commander, Jase Robertson, Al Robertson, Tracey Eyster, and many others. It coincided with the release of Dr. Kirby's new book Heartfelt, which was also unveiled as the new name of the ministry, Heartfelt Ministries.
"Our prayers for the first Heart to Home Conference were exceeded," stated Kirby. "Thousands of women showed up to hear fantastic messages and powerful praise. I praise God for the blessing of bringing friends together to encourage one another to be strong in their faith so that we can teach the next generation how a life in Christ can be lived with purpose, power and love."
More than 2,000 Christian women attended the conference in Monroe, and more than 40 churches participated by simulcast. Attendees also had the opportunity to interact with many of the speakers and various retail establishments in the exhibit hall that included more than 45 exhibitors.
Family Christian was the official bookstore of the conference and hosted book signings with many of the conference speakers who had authored books. "The Heart to Home Women's Conference in Monroe, LA was an extraordinary blessing to its thousands of attendees and to those who assisted in the event," said Steve Johnson, senior marketing manager, Family Christian. "Thank you to Dr. Joneal Kirby, Founder of Heartfelt Ministries and Tammy Daughtry, Heart to Home Conference Producer for allowing Family Christian to make life-changing materials available to conference attendees."
"It was a pleasure and a privilege to produce an event that highlighted the faith of the women of Duck Commander and how Heartfelt Ministries is at the core of their families' lives," said Tammy Daughtry, event producer, Mason Jar Productions. "The central driving passion of Heartfelt Ministries is to bring women together in meaningful relationships and we are excited to be a part of bringing that kind of hope and encouragement to women across the nation."
Heartfelt Ministries and Mason Jar Productions plan to announce the location for the next Heartfelt Conference, which is scheduled for June 5-6, 2015, in the coming weeks.
About Heartfelt Ministries:
Heartfelt Ministries was started by Dr. Joneal Kirby in 2003. It is a women's ministry founded on the principles of Titus 2:3-5, and was designed to develop closer relationships across generations among the women in the church and to deepen their relationship with Jesus Christ. For more information please visit heartfeltministries.org
About Mason Jar Productions:
Mason Jar Productions, LLC is an international event production company with over 40 years combined experience in the event management industry. Headquartered in Nashville, TN, Mason Jar Productions prides itself in creating strategic events that have a meaningful and life-giving impact on individuals and families. MasonJarEvents.com