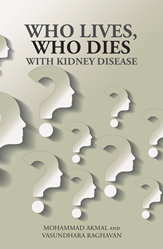 "I'm hopeful people are inspired by this book to do more research and learn prevention techniques. Chronic kidney disease is becoming one of the deadliest non-communicable diseases and it's time to change it." - Mohammad Akmal
LOS ANGELES (PRWEB) January 27, 2020
Chronic kidney disease causes more deaths than some cancers, yet largely goes unnoticed until it's too late. Authors Mohammad Akmal and Vasundhara Raghavan hope to educate people on how to prevent and manage kidney disease, as well as provide stories of those who have endured it, in their new book, "Who Lives, Who Dies with Kidney Disease."
The book features several stories told through the eyes of those affected by kidney disease including patients, caregivers and families of patient; the varying perspectives highlight the power of humanity during adverse situations. Along with these stories, the authors have also included in-depth medical explanations to better inform readers.
"We know so much more about kidney disease than we knew back then," Akmal remarks. "I'm hopeful people are inspired by this book to do more research and learn prevention techniques. Chronic kidney disease is becoming one of the deadliest non-communicable diseases and it's time to change it."
One Amazon reviewer praises the book: "As a kidney patient myself, I found myself eagerly reading the other patients' stories and then the second part of the book which explains and defines the world of kidney disease. I would recommend this book to patients and non-patients alike."
To learn more about this book and other books by the authors, please visit their website.
"Who Lives, Who Dies with Kidney Disease"
By Mohammad Akmal, Vasundhara Raghavan
ISBN: 9781532048463 (softcover); 9781532048470 (electronic)
Available at iUniverse, Amazon and Barnes & Noble
About the authors
Mohammad Akmal is a graduate of Khyber Medical College and served his fellowship at hospitals in Cincinnati and Los Angeles. He has been a medical director of dialysis programs at USC/DaVita Kidney Center and Keck School of Medicine for more than 35 years. He has served on numerous nephrology-related executive boards, written more than 65 publications and has won numerous recognitions and awards including Man of the Year in Medicine and Healthcare in 2008.
Vasundhara Raghavan retired as secretary general, Media Research Users Council, and lives in Dubai. She was inspired to begin advocacy work for kidney patients after writing about her own family's experience in her first book, "Shades of Life: Sublime Joy is in Living" (along with Akmal) and receiving feedback that her writing was instrumental in helping other kidney patients. Since diving deeper into her research, she has authored three more books relating to kidney disease. She currently helps advocate for the lives and interests of kidney patients in India.
Contact:
LAVIDGE – Phoenix
Kalin Thomas
480-648-7540
kthomas(at)lavidge(dot)com