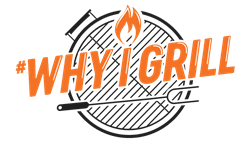 "Over the years we have seen backyard grilling evolve beyond a weekend hobby, with more than half of consumers recently surveyed saying they consider grilling a 'lifestyle choice'. We launched the #WhyIGrill campaign to tap into that enthusiasm." - Jack Goldman, president and CEO, HPBA
ARLINGTON, Va. (PRWEB) January 16, 2019
Why do you grill? Maybe it's for the flavor, for fun, to compete, to impress, or maybe even for nostalgia's sake. There are endless reasons, and each is personal. Hearth, Patio & Barbecue Association (HPBA) is launching a multi-media, ongoing initiative aimed at discovering and sharing why people grill.
Beginning today and continuing throughout the year, HPBA's "#WhyIGrill" campaign will turn to all current and prospective grillers – from first-time grill owners and award-winning pitmasters to manufactures and retailers – encouraging they share online, in media, and via social their love for barbecuing, all unified by the #WhyIGrill hashtag.
"Over the years we have seen backyard grilling evolve beyond a weekend hobby, with more than half of consumers recently surveyed saying they consider grilling a 'lifestyle choice,'" said Jack Goldman, president and CEO, HPBA. "We launched the #WhyIGrill campaign to tap into that enthusiasm. Whether it's the casual cook or the celebrated competitor, we look forward to learning their reasons for grilling."
A key component of the campaign is the new website, WhyIGrill.org. This online hub will showcase how and why grilling is becoming a year-round lifestyle choice.
Each month, the site will feature a grilling "ambassador," who will share why they grill and encourage others to do the same via images and stories. Notable NFL-player turned professional chef, Tobias Dorzon, will lead the charge as the first #WhyIGrill ambassador. According to Tobias, "grilling is a healthier alternative because it burns some of the fat off meats and it uses less oil." Tobias shares his recipe for his famous Yakitori Chicken Kebabs.
Additional #WhyIGrill campaign elements include:

Interactive social feed: Throughout the year, HPBA, in combination with its members and ambassadors, will seek to encourage thousands of people nationwide to post on their social feeds why they grill with the "#WhyIGrill" campaign hashtag. Whether it's videos, images, or simple text, HPBA will share select posts on the WhyIGrill.org homepage. To help encourage posting, HPBA will conduct contests connected to special grilling occasions, such as Father's Day, 4th of July, and National Barbecue Month.
Recipes: WhyIGrill.org will also seek to inspire backyard barbecuers with favorite dishes from its monthly ambassadors as well as recipes for basics such as burgers, brats, winter soups and stews, and game day snacks.
Tips & Tricks: Another key component of WhyIGrill.org is the tips & tricks section, which will feature info on finding new flames, advice on grill safety, and guidance on how to barbecue all year-long. In addition, HPBA will encourage the grilling industry to share these educational resources with their networks.
Happenings: HPBA will continuously update the site and campaign throughout the year with fresh, timely activities that coincide with special grilling occasions. First up, HPBA is preparing for winter's biggest grilling day – Super Bowl Sunday – by surveying people nationwide about their Game Day grilling plans. Results will be shared the week of Jan. 21 in preparation for the Big Game.
For more information on this ongoing initiative, visit WhyIGrill.org. In addition, take part in current happenings including the Super Bowl survey by Jan. 20 for a chance to win a gift card, and check back throughout the year to participate and promote more activities.
About the Hearth, Patio & Barbecue Association (HPBA)
The Hearth, Patio & Barbecue Association (HPBA), based in Arlington, Va., is the North American industry association for manufacturers, retailers, distributors, representatives, service firms and allied associates for all types of barbecue, patio and hearth appliances, fuels and accessories. The association provides professional member services and industry support in education, statistics, government relations, marketing, advertising and consumer education.
# # #