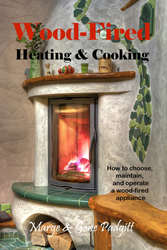 KANSAS CITY, Mo. (PRWEB) November 06, 2021
Heating appliances covered in this book are masonry fireplaces, Rumford fireplaces, circulating fireplaces, furnaces, wood-burning fireplace inserts, freestanding stoves, masonry heaters, and rocket mass heaters. Wood selection and preparation is included.
Cooking appliances discussed are wood-burning indoor cook stoves, indoor and outdoor brick ovens and oven kits, Tandoori ovens, grills, and campfires along with cooking tools and utensils.
The authors provide references and suggested reading, online groups, and educational resources. A bonus section contains delicious recipes for cooking with a wood-fired appliance by the authors.
The release of Wood-Fired Heating and Cooking comes at a time when people are thinking about being self-sufficient and prepared for any disaster or power outage. This unique book is an excellent resource for persons who need help trying to navigate through all of the choices available to heat their home or cook with a wood-fired appliance.