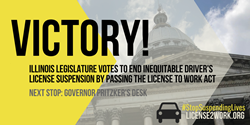 "We know that economic opportunity is essential to well-being. Through the License to Work Act, we will see thousands keep their licenses and in turn, their jobs, their ability to care for themselves and their families, and bring us a step closer to becoming a more equitable state." Kim Drew
CHICAGO (PRWEB) October 29, 2019
"Thank you, Illinois, for letting us get back to work," said Rosazlia Grillier of Community Organizing and Family Issues, who knows personally what it is like to have her driver's license suspended in Illinois. 
This victory is due to a hard-fought campaign, led by a dedicated coalition of community leaders and impacted individuals throughout Illinois who were determined to stand up for their communities. Community advocates hailed from throughout the state, and across the ideological spectrum, including the ACLU of Illinois, the Chicago Urban League, the Chicago Jobs Council, Community Organizing and Family Issues, Illinois Policy Institute, Americans for Prosperity—Illinois, Heartland Alliance, Woodstock Institute, and more.
"At Heartland Alliance, we know that economic opportunity is essential to well-being," said Heartland Alliance's Director of Legislative Advocacy, Kim Drew. "Through the License to Work Act, we will see thousands of people be able to keep their licenses and in turn, their jobs, their ability to care for themselves and their families, and bring Illinois a step closer to becoming a more equitable state."
We are so grateful for the bi-partisan support that got this bill across the finish line and we are even more grateful for the community support from advocates across Illinois that made this bill a reality.
Read the attached full press release for more from Heartland Alliance, are partners and to learn more and please contact Amber (Cason) Crossen  at 217.206.5664 for questions or to set up interviews with policy experts.