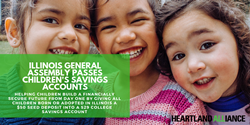 "This moment is more than 10 years in the making! We as parents understand and have been spreading the word about the impact that college savings can have on our children's mindsets." Rosazlia Grillier, Co-President of POWER-PAC Illinois.
SPRINGFIELD, Ill. (PRWEB) May 29, 2019
HB2237, sponsored by Representative Robyn Gabel and Senator Pat McGuire, expands the existing Illinois Bright Start College Saving Program, so that beginning in 2021, all children born or adopted in Illinois will receive a $50 seed deposit into a 529 college savings account at birth.
A small amount of savings can have a substantial impact on whether or not a child attends and graduates from college. Research indicates that children from low-income households with college savings of $500 or less, are three times more likely to enroll in college and four times more likely to graduate, than those without college savings accounts.
"This program removes barriers to saving for college and supports a family's aspirations for their child's future," said Jody Chong, Project Manager for Heartland Alliance. "The 65 CSA programs around the country have shown us that CSAs are a powerful tool. We are excited for Illinois to join that list of communities helping its children access higher education."
Illinois State Treasurer Michael Frerichs, who is championing this initiative and whose office will implement the program, can work with local government, community foundations, and other partners to create matched savings incentives and other opportunities for low-income families.
For full details, see the press release, and reach out to us today to speak with our financial policy experts on the impact of this bil and what it means for families in Illinois.