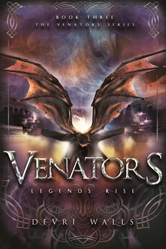 "For me, fantasy, world building and creature creation smells like freedom, tastes like freedom, and I am drinking that kool-aid every chance I get!" - Devri Walls, author of the Venators series
DALLAS (PRWEB) July 14, 2020
International best-selling author Devri Walls immerses readers further into the tragic and mystical world of Eon in Book Three of her Venators series, Venators: Legends Rise (eBook releasing today from Brown Books Publishing Group). In this new installment, Rune, Grey, and their companions Beltran and Verida have set off together to save their mentor Tate from the gladiator games. As their group struggles to stay together under the strain of their situation, each of them carries a secret that threatens to tear their group apart from within.
Rune now bears the mark of the promise she made to save Grey's life—a nixie bubble lodged in her arm that could call her away to do their bidding or spell her death. Even as their loyalty to their cause and to one another faces its greatest test, Rune's twin brother Ryker is forging an alliance with their mortal enemy, the powerful sorceress Zio, who has plans of her own for the Venators and Eon. Hearts will be bared, secrets unveiled, and relationships made and destroyed in this stunning new installment of the Venators series.
"I've talked to so many authors who find fantasy writing intimidating because there are fewer predetermined constructs," Devri said with regard to her writing. "For me, fantasy, world-building, and creature creation smells like freedom, tastes like freedom, and I am drinking that kool-aid every chance I get!"
Follow Rune, Grey, Verida, and Beltran on their thrilling journey through the tumultuous Eon in Venators: Legends Rise. This third installment contains shocking twists, exhilarating adventure, and endearing bonds that will enchant readers and leave them eager for more.
For more information, please visit http://www.DevriWalls.com.