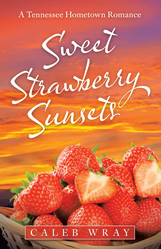 "I wrote 'Sweet Strawberry Sunsets' to bring the beauty of Humboldt and its festival for all readers to enjoy," said Wray. "I wanted to provide a heart-warming story that shares the southern family dynamics and the beauty of love, faith and goodness."
DICKSON, Tenn. (PRWEB) November 29, 2021
One of the best feelings in the world is being home. In Caleb Wray's debut book, "Sweet Strawberry Sunsets: A Tennessee Hometown Romance," he beautifully pens how home is not just a place but it is where the heart is. The author shows readers that sometimes, going back home can shine a light on who one really is.
"Sweet Strawberry Sunsets" follows Amelia Allen as she visits her hometown in Humboldt, Tennessee, for the first time in years. While she is reconnecting with her childhood, she runs into Ian Reynolds, the reason why Amelia has been away for so long and was her first heartbreak.
Unforeseen circumstances keep Amelia in Humboldt longer than she expected, but many surprises are in store for her during her stay. Wray gives readers a wholesome, uplifting story that shows the beauty of love and the importance of home. As Amelia realizes she is finding herself again in the most unexpected places, she remembers how much she loves being home and how important it is to be around family and friends. Wray's book is not only based on his hometown but is dedicated to one of the most popular things to do in Tennessee, the annual strawberry festival.
"I wrote 'Sweet Strawberry Sunsets' to bring the beauty of Humboldt and its festival for all readers to enjoy," said Wray. "I wanted to provide a heart-warming story that shares the southern family dynamics and the beauty of love, faith and goodness."
Ultimately, readers will witness a southern romance throughout the pages of "Sweet Strawberry Sunsets" that whisk the audience away. By the end of the book, Wray pens Amelia's story of finding herself and possibly finding the love of her life.
"Sweet Strawberry Sunsets: A Tennessee Hometown Romance"
By Caleb Wray
ISBN: 978-1-6642-3535-9 (softcover); 978-1-6642-3536-6 (hardcover); 978-1-6642-3534-2 (eBook)
Available at WestBow Press, Amazon and Barnes & Noble
About the author
Caleb Wray is a full-time minister and small business owner living in Middle Tennessee. Wanting to share memories of his hometown festival and write a story about love and self-discovery, Wray turned to his small Tennessee home to inspire "Sweet Strawberry Sunsets." To learn more, please visit http://www.calebwray.com.
General Inquiries:
LAVIDGE – Phoenix
Grace Connor
480-998-2600
gconnor@lavidge.com