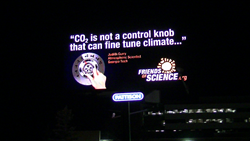 Friends of Science...compare the grim black cover and catastrophic imagery of the NYTimes story to the age-old human inclination to prophesize that 'the end is nigh' if people fail to repent or pay tithes – like a modern day 'price on carbon.'
CALGARY, Alta. (PRWEB) August 08, 2018
Heat waves, floods and droughts are nothing new when you look at history, says Friends of Science, referring to books like Brain Fagan's "The Great Warming," "The Little Ice Age: How Climate Made History," or Parker's "Global Crisis," but sadly the Internet is awash with climate catastrophe claims like the Aug. 1, 2018, New York Times climate change special "Losing Earth: The Decade We Almost Stopped Climate Change,". A recent paper by Steffen et al claims an irreversible hothouse effect might be reached unless we meet Paris climate targets, as reported by The Huffington Post, Aug. 7, 2018.
On twitter, numerous climate scientists denounced the Steffen et al paper as fear-mongering not based in fact.
As Ted Nordhaus writes in Foreign Affairs of Feb. 8, 2018, the 2°Celsius climate change target was arbitrarily set by his uncle, an economist and is a delusion.
On Aug. 07, 2018, Friends of Science Society issued a short rebuttal report entitled "Countering the Climate Tome: NYTimes goes AWOL on 'Losing Earth'" in which they compare the grim black cover and catastrophic imagery of the NYTimes story to the age-old human inclination to prophesize that 'the end is nigh' if people fail to repent or pay tithes – like a modern day 'price on carbon.'
Calling the NYTimes long narrative the story of two 'climate pilgrims,' Friends of Science questions why and how so much more of the climate story was ignored. Climate has changed dramatically over the 4.5 billion years of earth's history; climate science is a multi-disciplinary field that includes astrophysics, oceanography, earth sciences, atmospheric science, hydrology and more. Two activists do not represent the past 30 years of research and discovery on climate.
In Friends of Science Society's rebuttal to the NY Times, the role of billionaire philanthropies in spreading climate catastrophe messages is explored.
Researcher Matthew Nisbet provides an extraordinary insight into the millions of dollars spent by the ClimateWorks Foundation on funding environmental groups, in his recent paper "Strategic philanthropy in the post‐Cap‐and‐Trade years…" published May 22, 2018. Nisbet says philanthropists funded ENGOs to effect global policy change, "intending to invest more than $1 billion worldwide." In his 2014 "ClimateShift" Nisbet states: "The (Design to Win) report predicted that passage of cap and trade legislation would "prompt a sea change that washes over the entire global economy."
Nisbet's research is confirmed by the ClimateWorks Podesta Wikileaks documents. ClimateWorks Foundation - WikiLeaks
It is unclear if any governments were consulted or if this activity was authorized.
Friends of Science says the NYTimes could have served humanity with a true story of climate science and thirty years of advancement in this multidisciplinary field.
Fearmongering to gain public support for carbon taxes, cap and trade or personal carbon budgets will not 'stop climate change' says Friends of Science, adding that solar and ocean cycles are principle drivers of the climate.
About
Friends of Science Society is an independent group of earth, atmospheric and solar scientists, engineers, and citizens who are celebrating its 16th year of offering climate science insights. After a thorough review of a broad spectrum of literature on climate change, Friends of Science Society has concluded that the sun is the main driver of climate change, not carbon dioxide (CO2).
Friends of Science Society
P.O. Box 23167, Mission P.O.
Calgary, Alberta
Canada T2S 3B1
Toll-free Telephone: 1-888-789-9597
Web: friendsofscience.org
E-mail: contact(at)friendsofscience( dot)org
Web: climatechange101.ca