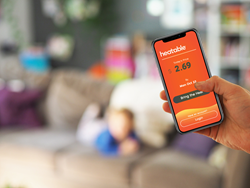 Game changer! Slick app, no more calling around for best price. Super quick delivery. And for those of us who like to keep track of how much oil we consume seasonally, the text/email records are super informative and handy.
KITTERY, Maine (PRWEB) October 31, 2018
In New England, the days are getting cooler and before long we'll be in the throes of what is predicted to be a cold winter. Homeowners around the region are making sure that their heating oil tanks are filled before the arctic temperatures arrive. Heatable, a new tech-savvy heating oil company based in Kittery, Maine, recently opened its doors and launched a user-friendly smartphone app that will give residents in New Hampshire's Seacoast and York County the ability to order low-priced heating oil from anywhere, at any time. The new company is the first discount heating oil company in the region to provide this type of innovative smartphone technology.
"Even though we've only been open for a couple of weeks, customers are quickly signing up, downloading the Heatable smartphone app and raving about how easy and convenient it is to order low-priced heating oil on their smartphones," said David Simmons, Heatable Crew Leader.
On Facebook customers have provided a number of positive reviews, including this one from Nathaniel of Rollinsford, New Hampshire. He says, "I signed up today online and it was simple. I downloaded the app and all my info was there and I was able to order oil in less than 2 minutes. I got an email this afternoon that the oil had been delivered. The price was right on the front page, so I did not have to call and check. The only company I know with an app for my phone."
Simmons continued: "Many consumers today want low price and convenience – they want to manage their accounts and order what they want when it's convenient for them, directly from their smartphones or computers and tablets. It's done in so many other categories today, so why should ordering heating oil be any different?"
Over the years, technological innovation has been a huge game-changer for many industries – think Amazon, Uber, Chewy and Zappos. But in the heating oil industry, the innovations have been slower to emerge. "We are bringing discount heating oil delivery into the digital age with an intuitive, easy-to-use smartphone app and website that will help people save time, money and aggravation. It's a smarter way to order low-priced heating oil," Simmons concluded.
Dan, from Rye, New Hampshire recognized the power of Heatable's smartphone app when he ordered and shared this review on Google, "Game changer! Slick app, no more calling around for best price. Super quick delivery. And for those of us who like to keep track of how much oil we consume seasonally, the text/email records are super informative and handy."
For the upcoming heating season, Heatable will deliver to New Hampshire residents in Dover, New Castle, Newington, Portsmouth, Rochester, Rollinsford, Rye, Rye Beach and Somersworth. York County Maine residents in Berwick, Cape Neddick, Eliot, Kittery, South Berwick and York will also be part of the new company's delivery network.
How Heatable Works
To start receiving low-priced heating oil from Heatable, customers simply need to download the Heatable smartphone app or go to the company's website, Heatable.com and sign up. From the smartphone app and website, consumers can easily check the current heating oil price, place orders, confirm delivery dates, pay with their debit or credit card, and access their order history to easily manage their individual heating oil needs when convenient for them. Upon delivery, customers receive a digital confirmation of their delivery amount and final charge. Customers can also opt to receive helpful email alerts, notifying them of significant market changes in heating oil prices, so they can be more informed and order smarter.
"For the customer who wants to manage their heating oil costs, we're putting the control back in their hands," said Simmons. "Gone are the days of calling around for the lowest price, ordering between 8 a.m. and 5 p.m. Residents in our delivery area can order low- priced heating oil from their couch, or their kid's team practice, or in the middle of the night – and can pay right then and there with a debit or credit card. Once consumers sign up and download the Heatable app on the App Store or Google Play, the experience gets even easier. With the app, customers can literally-tap, tap, swipe and we bring the heat."
Heatable is not a price aggregator that serves as a middleman between customers and discount oil companies. "We understand customers want a reliable partner they can count on for low-priced heating oil. Our smart, easy-to-use technology is better than anything on the market today, and our trucks and our people will deliver the oil as promised. We simply want to make it easy and convenient for people who want the lowest price on their heating oil," Simmons concluded.
Heatable has a free smartphone app available now for download from the Google Play or Apple App Store.
About Heatable
Heatable is a new kind of low-priced heating oil company hatched by a small group of forward-thinking and tech-savvy heating oil professionals. Founded in 2018, the company is based in Kittery, Maine, and currently delivers heating oil to residential customers in the Seacoast of New Hampshire and York County, Maine. Customers can place orders and manage their account whenever and wherever they need to through the company's proprietary and easy-to-use online and mobile technology. Heatable is focused on heating oil customers who prefer to manage their own heating oil orders. Heatable does not offer full-service options such as budget programs, price protection, 24-hour equipment service, automatic delivery or installation. For more information, visit http://www.heatable.com.