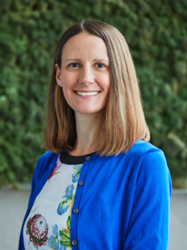 "Heather is joining our team with a wealth of experience in strategy and execution for both digital and live marketing," Said John Capano, Senior Vice President, Client Development at Impact XM. "She is a proven leader in her field that will bring new and refreshing insight to our marketing team."
DAYTON, N.J. (PRWEB) September 17, 2019
Global brand engagement agency Impact XM has hired Heather Griffin to lead its Marketing team. As Vice President of the department, Heather will apply her expertise in design, digital, marketing, and events to continue to grow Impact XM's brand.
Griffin joins Impact XM from her previous position as VP, Marketing and E-Commerce at Duggal Visual Solutions. In her previous position, she built the company's marketing department from the ground up, moving quickly into a leadership position that enabled her to expand the department to take on marketing, design, PR, SEO, sustainability, events and e-commerce needs. She prides herself on building strong teams and helping to develop the skills of creatives who are passionate, dedicated, and hard-working.
In addition to this, Griffin also helped to build YourArtGallery.com, a leading online gallery to help artists showcase and sell their art, a website for which she was the managing director and is still a co-founder.
"Heather is joining our team with a wealth of experience in strategy and execution for both digital and live marketing," Said John Capano, Senior Vice President, Client Development at Impact XM. "She is a proven leader in her field that will bring new and refreshing insight to our marketing team."
"It is a pleasure to join such a talented and creative team to help brands tell their story. I look forward to sharing Impact XM's extensive industry knowledge, experience and breadth of services that they provide to their clients.", Said Griffin. "Great things are happening at Impact XM."
About Impact XM (http://www.impact-xm.com)
Impact XM is a global brand engagement agency specialized in live marketing. The agency creates events, meetings, conferences, exhibits, environments, digital engagements and consumer activations that connect clients' target audiences with their brands.
Trusted by some of the world's most respected organizations, the agency has a forty-six-year heritage of insightful strategy, brilliant creative, smart fulfillment and purposeful metrics. Impact XM clients operate across a variety of industries, including the Aviation, Healthcare, Technology and Industrial sectors.