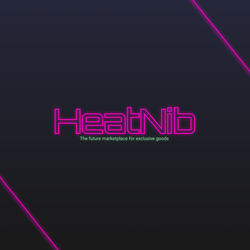 SAN FRANCISCO (PRWEB) July 13, 2020
Today, HeatNib, a new player in the world of exclusive collectibles, has announced that their innovative technology will merge the resale and retail markets and introduce a revolutionary way for fans and their brands to connect with each other.
One of the co-founders of the company, Laurier St-Aubin has stated, "We are building the marketplace of the future using blockchain. We understand that the current industry ecosystem has shifted attention heavily to the resale market, and that has caused a disconnect between brands and fans. On one hand, brands lack access and data about the resale market, which often resells their products at 2-10 times the original price. On the other hand, some consumers don't always check the brand's website for stock, and jump straight to a resale platform in order to buy something." HeatNib introduces a new dynamic where consumers have a stake in the success of the brand they are affiliated with.
**How does it work?**

Every product on HeatNib is released as a Trading Card. A Trading Card is a digital representation of the physical product. The card can be redeemed at any time to receive the physical product. Alternatively, the Trading Card can be held until later with the goal of selling it for profit.
Dropping goods as Trading Cards allows each product to be priced based on supply and demand. That means, if more people want an item the price goes up, and vice versa.
**How does this help creators?**
Because the goods are priced dynamically, creators such as artists, entertainers, musicians, athletes, and any other collectible entity can, for the first time, capitalize on the hype they create with their exclusive products.
Creators can also collect data on the types of people that buy or resell.
Creators can also benefit from their fans having skin in the game. A user who has purchased a Trading Card with the goal of reselling it, has an incentive to promote the product that they hold in order to drive the price up.
**How does this help fans?**
Fans can get involved with their favorite brands in a completely new way. By buying a product through HeatNib, fans can essentially become investors of that product and have a stake in its performance.
Resellers who are used to moving a large volume of product, can benefit from no shipping fees or duties when buying and selling Trading Cards on HeatNib. Only once they redeem will they be asked to provide shipping information.
True fans are rewarded even more. By getting in early on releases, fans can benefit from a lower price point.
**About HeatNib** The company is on a mission to reconnect brands with their fans, and to help new creators shine in an ever-changing commercial landscape. HeatNib is the future marketplace for exclusive goods. The company is looking for creators who would like to benefit from their technology, by selling exclusive products on its marketplace.