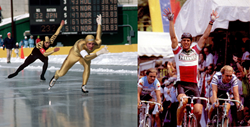 "The components for a successful athletic career are quite diverse, and I've always dreamed about bringing those components together, under one roof..."
Park City, Utah (PRWEB) May 04, 2017
After years of envisioning a comprehensive program encompassing sports medicine, human performance, sports psychology and nutrition as a team approach, Eric Heiden, MD, announced the Heiden Institute of Sports Science and Human Performance (Heiden Institute) located in Park City, UT.
Heiden, a U.S. 5-time Gold Medal Olympian, BMC Racing Team physician, USA Road Race Champion, Tour de France cyclist-turned-orthopedic-surgeon has teamed up with cardiothoracic surgeon, Russ Reiss, MD. Together they've assembled a team of professionals with 65+ years' combined experience working with professional and elite amateur athletes. Heiden's expert team also includes: Dan Barlow, MA, USAC, former Director of Sports Science & Performance with Real Salt Lake (MLS); John Flint, PT, MBA; Nicole Detling, PhD, CC-AASP (Sports Psychology) with the US Ski and Snowboard Association and University of Utah; and Jessica LaRoche, MS, RD, CSSD (Sports Dietitian) with US Speedskating.
"The Heiden Institute is something I've thought of for years. I am an orthopedic surgeon, I take care of athletes, and have been an athlete myself. I've understood the components for a successful athletic career are quite diverse and have always dreamed about bringing those components together, under one roof, in a comprehensive way," states Heiden.
The Heiden Institute is a collective of like-minded, sports-oriented, medical and fitness professionals offering human performance services in Park City previously only available to professional and Olympic level athletes. Heiden and Reiss are pioneering an innovative model combining the latest in sports science and human performance with state of the art sports medical care, including orthopedic surgery, sports cardiology and regenerative medicine.
Cycling Camps 2017: The Heiden Institute offers a variety of cycling camps (road and mountain) with Gold, Silver, and Bronze level packages. All camp levels include: fully supported high-altitude, challenging daily routes in and around Park City and beautiful Wasatch mountain range; massage; meals; accommodations; airport transportation; bike maintenance and care; and educational components. Gold level clients also receive comprehensive fitness, nutritional, sports psychology and sports medical assessments usually reserved for pro-level riders while Silver level clients focus mainly on performance assessments. Clients also enjoy nightly expert-led discussions from guest speakers on a variety of performance-related subjects including sports medicine, nutrition, sports psychology, cardiac health, regenerative medicine, training program design and more. The inaugural camp debuts June 18-23 with guest speaker/rider, Phil Gaimon, experienced World Tour Rider and author. Other camps include The Ultimate Challenge (Stage 6, Tour of Utah), a women's only camp, and fall mountain bike camp.
For more information, call: (888) 407-8088 or visit our website: http://www.theHeidenInstitute.com. Connect with us! Facebook, Instagram, and LinkedIn. #HeidenInstitute #FitForLife