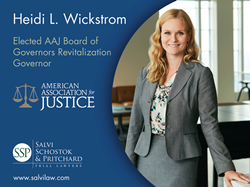 CHICAGO (PRWEB) May 19, 2020
Salvi, Schostok & Pritchard is pleased to announce attorney Heidi L. Wickstom has been elected to the American Association of Justice's Board of Governors as the Revitalization Governor.
The Board of Governors is the governing body of AAJ. The Revitalization Governor position is reserved for only one lawyer in each state, and it is a two-year term. As part of her duties, Ms. Wickstrom will engage with the Illinois Trial Lawyers Association, assist with fundraising and membership drives for AAJ, and assist with political engagement on behalf of AAJ and the state trial lawyer organization.
For more information, please contact Marcie Mangan at mmangan@salvilaw.com or (877) 823-1433.