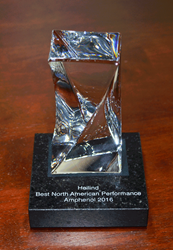 WILMINGTON, Mass. (PRWEB) May 25, 2017
Heilind Electronics, a leading global distributor of electronic components, was presented the Best North American Performance in Distribution award by Amphenol. The award was presented to Heilind executives by Amphenol CEO Adam Norwitt at the company's annual EDS reception held on May 17 in Las Vegas, Nevada. This is the second consecutive year that Heilind has earned this distinction.
"We are honored to be recognized by Amphenol as one of the most prominent electronic distributors for 2016," said Alan Clapp, Vice President of Supplier Business, Heilind Electronics. "To be acknowledged for our continued performance amongst Amphenol's many North American distributors, for the second year in a row, is a testament to our ongoing commitment to innovation, supply chain integrity and service excellence."
As an authorized distributor for over a dozen Amphenol divisions, Heilind Electronics is one of the manufacturer's leading distributors globally.
About Heilind Electronics
Founded in 1974, Heilind Electronics, Inc. (http://www.heilind.com) is one of the world's leading distributors of connectors, relays, sensors, switches, thermal management and circuit protection products, terminal blocks, wire and cable, wiring accessories and insulation and identification products. Heilind has locations throughout the U.S., Canada, Mexico, Brazil, Germany, Singapore, Hong Kong and China. Follow Heilind on Facebook at facebook.com/Heilind and on Twitter at twitter.com/Heilind.