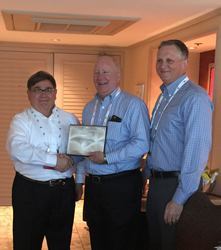 WILMINGTON, Mass. (PRWEB) May 31, 2017
Heilind Electronics, a leading global distributor of electronic components, was recently honored with three industry achievement awards for its 2016 performance. The awards were presented at the EDS Summit in Las Vegas, Nevada by leading electronic suppliers Panduit, Neutrik and Keystone Electronics.
Panduit, a global manufacturer of infrastructure equipment supporting power, communications, computing, control and security systems, awarded Heilind the Outstanding Achievement Award – making Heilind their 2016 Top Distributor in the Electronics Channel.
Neutrik, a world leader in the design, manufacture and marketing of audio, coaxial, power and circular connectors, named Heilind their 2016 Distributor of the Year.
Keystone Electronics, a leading manufacturer of precision electronic interconnect components and hardware, presented Heilind with their 2016 Platinum Level Distributor award.
"It is an honor to be recognized by so many manufacturers for our contributions to the electronic distribution industry," said Alan Clapp, Vice President of Supplier Business, Heilind Electronics. "These prestigious awards are the result of the hard work and commitment of all Heilind employees. It is our ongoing mission to exceed the expectations of our suppliers and customers through performance, trust and innovation."
In addition to receiving the three industry awards, Heilind was named the recipient of Amphenol's 2016 Best North American Performance in Distribution award for the second consecutive year.
About Heilind Electronics
Founded in 1974, Heilind Electronics, Inc. (http://www.heilind.com) is one of the world's leading distributors of connectors, relays, sensors, switches, thermal management and circuit protection products, terminal blocks, wire and cable, wiring accessories and insulation and identification products. Heilind has locations throughout the U.S., Canada, Mexico, Brazil, Germany, Singapore, Hong Kong and China. Follow Heilind on Facebook at facebook.com/Heilind and on Twitter at twitter.com/Heilind.