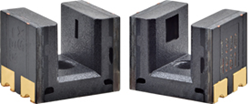 WILMINGTON, Mass. (PRWEB) August 23, 2017
Heilind Electronics, a leading global distributor of electronic components and authorized distributor for Omron, has expanded its optical sensor line with the company's new EE-SX1320/1321/1330/4320 photomicrosensors.
The advanced structure of the EE-SX series includes an ultra compact 2-3 mm slot width, photo IC output, and dual channel output to detect changes in movement direction. SMD (surface-mount design) components reduce the board space required, which allows for more robust circuit designs and mounting on either side of the PCB. Furthermore, EE-SX photomicrosensors are equipped with built-in soldering joints – ultimately saving time and money during the assembly process.
Omron EE-SX photomicrosensors are used in a wide variety of applications, including office automation tools, smart meters and thermostats, healthcare equipment and vending machines.
Visit Heilind's website for more information about Omron EE-SX photomicrosensors.
About Heilind Electronics
Heilind Electronics, Inc. (http://www.heilind.com) is one of the world's leading distributors of connectors, relays, sensors, switches, thermal management and circuit protection products, terminal blocks, wire and cable, wiring accessories and insulation and identification products. Founded in 1974, Heilind has locations throughout the U.S., Canada, Mexico, Brazil, Germany, Singapore, Hong Kong and China. Follow Heilind on Facebook at facebook.com/Heilind and on Twitter at twitter.com/Heilind.