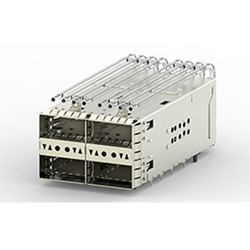 WILMINGTON, Mass. (PRWEB) July 11, 2018
Heilind Electronics, a leading global distributor of electronic components and authorized distributor for TE Connectivity (TE), a global leader in connectivity and sensors, is now stocking TE's zQSFP+ stacked belly-to-belly cages with integrated connectors. The zQSFP+ solution addresses requirements for higher density switch and Open Compute Project (OCP) designs using next-generation 48 and 64 silicon ports.
TE's stacked cages support a single PCB architecture (versus two PCBs) in each line card, which could save the customer significant costs. These cages offer 4 channels (4x) of 28+ Gbps data rates and support 100 Gbps Ethernet as well as 100 Gbps InfiniBand Enhanced Data Rate requirements.
TE's zQSFP+ interconnects enable optical modules and cable assembly speeds to reach new levels, increasing data transfer rates by 2.5 times over existing solutions. Additionally, they can be used in 10 Gbps and 16 Gbps applications, are backwards compatible with QSFP/QSFP+ products and can support 56 Gbps PAM-4 technologies. Ideal applications include networking, switches, servers, routers and wireless base stations.
Visit Heilind's website for more information about TE Connectivity's zQSFP+ Stacked Belly-to-Belly Cages.
About Heilind Electronics
Heilind Electronics, Inc. (http://www.heilind.com) is one of the world's leading distributors of connectors, relays, sensors, switches, thermal management and circuit protection products, terminal blocks, wire and cable, wiring accessories and insulation and identification products. Founded in 1974, Heilind has locations throughout the U.S., Canada, Mexico, Brazil, Germany, Singapore, Hong Kong and China. Follow Heilind on Facebook at facebook.com/Heilind and on Twitter at twitter.com/Heilind.
About TE Connectivity
TE Connectivity Ltd. is a $13 billion global technology and manufacturing leader creating a safer, sustainable, productive and connected future. For more than 75 years, TE's connectivity and sensor solutions, proven in the harshest environments, have enabled advancements in transportation, industrial applications, medical technology, energy, data communications and the home. With 78,000 employees, including more than 7,000 engineers working alongside customers in nearly 150 countries, TE ensures that EVERY CONNECTION COUNTS. Learn more at http://www.te.com and on LinkedIn, Facebook, WeChat and Twitter.
TE Connectivity, TE, TE connectivity (logo) and EVERY CONNECTION COUNTS are trademarks of the TE Connectivity Ltd. family of companies. Other product and/or company names might be trademarks of their respective owners. InfiniBand is a trademark. zQSFP+ is part of the ZXP family of connectors and uses ZXP technology. ZXP is a trademark of Molex, LLC.