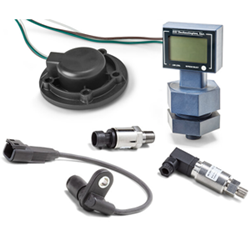 WILMINGTON, Mass. (PRWEB) September 16, 2019
Heilind Electronics, a premier distributor of electronic components worldwide, has partnered with SSI Technologies (an Amphenol Company) to bring its customers a broad range of industry-leading automotive and heavy equipment sensor solutions.
As an authorized distributor for SSI Technologies, Heilind will offer an extensive selection of level sensors, pressure sensors, digital gauges, speed and position sensors and other sensing products. The company is currently stocking the P51 MediaSensor family of pressure sensors, which includes absolute, vented gauge and sealed gauge types. These compact, micro-machined sensors are available in a wide variety of fittings and measure pressure from 3 PSI to 7,500 PSI.
A key part of the new SSI Technologies offering is customization. Customers can tailor solutions to their specific applications, modifying features such as pressure ranges, tank heights and gauge sizes.
"We are pleased to add SSI to our rapidly growing Amphenol sensor portfolio," said Glen MacGibbon, Vice President of Business Development - Sensors, Heilind Electronics. "Because SSI is a recognized leader in custom-engineered pressure and unique level sensing technologies, we can offer the flexibility and diversity that would not be available with out-of-the-box solutions."
SSI Technologies products are used in many markets, including heavy industry, industrial, material handling, HVAC, automotive, mass transit and agriculture.
Visit Heilind's website for more information on SSI Technologies.
About Heilind Electronics
Heilind Electronics, Inc. (http://www.heilind.com) is one of the world's leading distributors of connectors, relays, sensors, switches, thermal management and circuit protection products, terminal blocks, wire and cable, wiring accessories and insulation and identification products. Founded in 1974, Heilind has locations throughout the U.S., Canada, Mexico, Brazil, Germany, Singapore, Hong Kong and China. Follow Heilind on Facebook at facebook.com/Heilind and on Twitter at twitter.com/Heilind.
About SSI Technologies
SSI Technologies produces innovative and reliable pressure, level and magnetic sensors; digital pressure gauges; and digital level gauges for the automotive and industrial markets. Since 1982, the company has been a leader in the custom development of sensor solutions for a wide range of markets. All SSI Technologies products are designed and manufactured in the U.S.